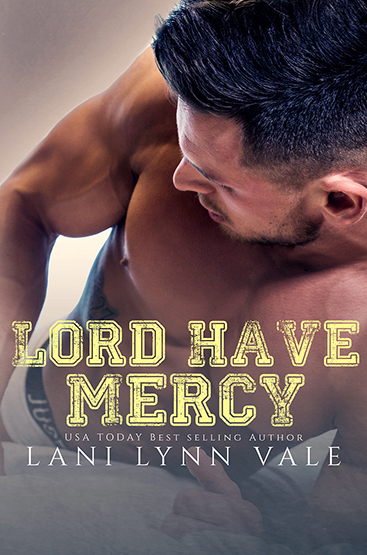 LORD HAVE MERCY
by Lani Lynn Vale
Series:
Southern Gentleman #2
April 23, 2019
Amazon
| 
Kobo
| 
iTunes
| 
B&N

Poor judgment: knowing better yet doing it anyway.
Flint Stone is a professional in every way.
He's a police officer with the K-9 unit and works at Gun Barrel High as the school resource officer. In his spare time, he's working his heart out to create a successful gym from the ground up.
He's loved by every single person he ever encounters—student, faculty, and employees—Everyone but Camryn Elvis Presley.
The only thing they have in common is their mothers' poor excuses for names.
Period. The end.
So why is it every time she crosses his path that he has the urge to mess up her perfectly curled hair? Or unbutton a few of her prim and proper buttons?
He knows he should stay away, yet like the high schoolers he's around every day, he has no choice but to react first and think about the consequences later.
Side note—bad decisions are made, leading to lapses in judgment that threaten both of their jobs. Yet when the time comes, neither one can seem to find the wherewithal to care. Why? Because being bad feels so good.
I received this book for free from in exchange for an honest review. This does not affect my opinion of the book or the content of my review.
REVIEW
I have quickly become an addict for Lani Lynn Vale and her amazing stories, that I just can't get enough of!
If you enjoyed HISSY FIT you are going to go bananas over LORD HAVE MERCY! The Southern Gentleman series is as outrageously hilarious as it is delicious!
Flint and Camryn were just as a fun and witty (if not maybe… more so) as Raleigh and Ezra. Flint and Camryn have an enemies to lovers story that had me finishing the book in one sitting. I always love a good story that plays on the 'there's a thin line between love and hate'. And who doesn't love a story that has some crazy ex's thrown in for good measure?
What I love most about The Southern Gentleman series so far is that while Lani Lynn Vale touches on hard topics and tough situations, that's all she does. She just touches on them. They are there but she is able to keep the stories witty, fun and fast paced enjoyable reads.
Whenever I'm reviewing a book that is not the first in a series I also like to give my opinion on if this book can be read without having read the first one. My opinion on LORD HAVE MERCY is that yes, I believe the story would be enjoyable if you didn't read HISSY FIT first, but I'm going to highly advise against it.
The characters in LORD HAVE MERCY are introduced in HISSY FIT and the hero and heroine from HISSY FIT are also followed in LORD HAVE MERCY. You are seriously missing out on a lot if you choose to skip the first book.