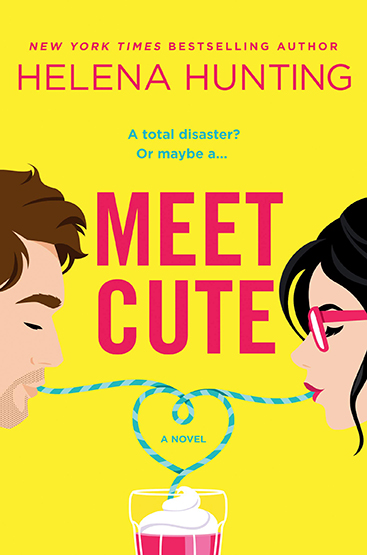 Meet Cute
by Helena Hunting
April 9, 2019
Amazon
| 
Kobo
| 
B&N
| 
BAM

Kailyn Flowers was always calm, rational, and controlled-until she ended up sprawled all over Daxton Hughes, the former actor she totally crushed on as a teenager. Then she did the unthinkable: She became a mortifying fangirl in five seconds flat, which may or may not have included professing her undying love. And oddly, he didn't run away. In fact, their meet cute led to a friendship she never saw coming. Of course, she never saw his betrayal coming, either...
Now Dax needs her help. As guardian to his thirteen-year-old sister, he's in way over his head. And though Kailyn hasn't forgiven Dax, she isn't heartless enough to make him fend for himself, either. Soon their friendly meetings turn into flirty dinner dates, and Kailyn can feel their chemistry is as explosive as ever. But how can she possibly let down her guard again to a guy who has heartbreak written all over him?
I received this book for free from in exchange for an honest review. This does not affect my opinion of the book or the content of my review.
REVIEW
Let my start off by stating that if you are a HUGE fan of the
Pucked
series, like I am, than be prepared that
Meet Cute
is NOTHING like it! While there were well written humorous situations and a good amount of fun dialogue, I would not call this a romantic comedy in the way we might know from Helena Hunting.
Now, if you've read Helena's Clipped Wings series AND the Pucked series, I would say Meet Cute would be the what would happen if those series had a baby.
All of that said — I really and truly thoroughly enjoyed and could not get enough of Dax and Kailyn.
I've been a fan of Helena's for a long time and it has been a joy to watch her writing continue to grow and evolve. I think Meet Cute is the perfect representation of her writing continuing to do so.
As for the story — I mean, who doesn't love a story where someone ends up with their hollywood crush? Helena did a superb job of making that situation realistic and believable which can be hard to do.
Meet Cute also deals with the characters facing tragic events and how those events impact their lives and how they deal with grief.
As someone who also lost both of her parents before she should have, I found the way these characters handled themselves to be extremely believable and obviously very relatable to my own personal life.
I strongly encourage you to give Meet Cute a try! Just be prepared to give a few tears along with a few laughs. 😉