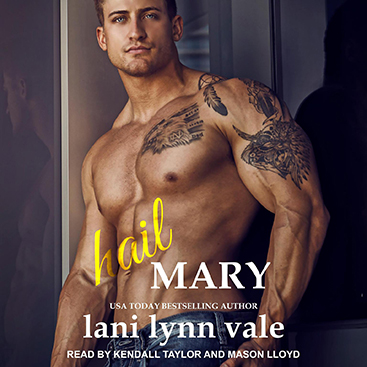 Hail Mary
by Lani Lynn Vale
Series:
Hail Raisers #6
February 19, 2019
Amazon
| 
Kobo
| 
iTunes
| 
B&N
| 
Audible

Mary Persephone Hail
Mary—well-wished-for child.
Persephone—destruction.
Hail—well that speaks for itself.
Her name is painful to think about. Mary, his newfound daughter, isn't a wished-for child. Persephone, though? Yeah, destruction is a fitting description. And Hail? Yeah, that's just the final f-you.
The moment that her mother drops her off on his doorstep, Dante's hell becomes complete.
Or so he thinks.
What can make life worse after losing one's wife and kids, you ask? Here's what: being given a baby that depends on him for her survival. Finding out that the baby's mother is dying of brain cancer, and has a husband that he never knew about. A husband that Dante knows in the marrow of his bones is trying to kill her just as surely as the cancer eating her brain.
Dante's a bad person. He's done some not so nice things, and now he's being punished for his misdeeds. Karma is finally catching up to him.
This child that he's been stuck with is of his flesh and bone. This child is his salvation. This child is the final nail in the coffin of his wife and daughters' too short lives.
He doesn't want this child.
But this child will save him whether he wants her to or not.
With the help of a friend—yes, a woman friend—Dante finds his way back to life. But what he finds when he gets back isn't the same life that he left behind. Turns out, he has to start living a new one. One where he's suddenly having feelings for a friend that helped him get through some tough times, and loving a daughter that won't let him quit.
REVIEW
When I got the opportunity to review an audiobook by Lani Lynn Vale, I jumped all over it! However, I am a huge stickler for reading a series in order. :/ I just can't jump in at the end of a series if I had not read this series yet – so guess what I did? I started from the beginning and read the whole thing!
Let me tell you – I am so glad I did! I fell in love with all these characters and I'm so glad I decided to read their stories! Especially with it sending with Dante's story.
Now, can this be read (or listened to) as a stand alone? Yes. The rest of the characters from the series are not featured as much in Hail Mary as they are in other books from the series. But you would be missing out on SOOOO MUCH! Dante and his tragic past are mentioned all the way back in the first book (Hail No) and brought into more light as you continue with the series. Literally, Dante's journey is through out the whole series and I'm sure Lani end the series with him because he has the most to overcome in order to have his happily ever after. Lani has you salivating for his story and his happily ever the whole series!
What can I say about Cobie? Everything that she had been through made me ache for her as well. She gave me all the feels with her story and I couldn't help but keep rooting her on to keep pushing forward!
The narrators did an amazing job bringing Dante and Cobie's story to life for me. Especially the Mason Lloyd. They were on point with the emotion and really making me feel what the characters were going through!
Now, the Hail Raisers series is a little more angsty then the other series I've read from Lani Lynn Vale but still has humorous dialog and moments that made me laugh.
You can not go wrong with Lani Lynn Vale!