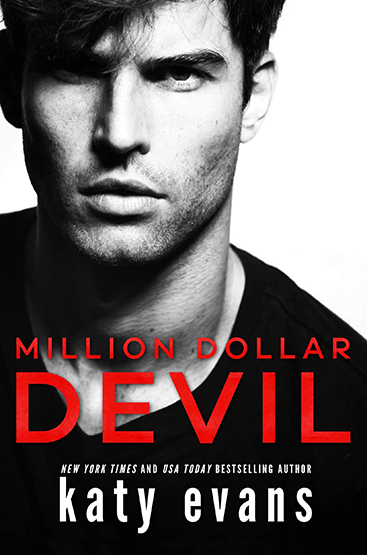 Million Dollar Devil
by Katy Evans
May 28, 2019
Amazon

Heir apparent to her father's company, Lizzy Banks needs a man. The perfect man. But when the rich "fundbabies" she usually rubs shoulders with prove impossible to hire, she takes a chance on a raw beast of a man salvaged from the wreckage of a bar brawl.
James Rowan earns a modest income as a YouTube daredevil, but he can't refuse Lizzy's million dollar deal. As she polishes his rough edges, creating a sophisticated gentleman &t for the highest circles of society, not only does she bring out the perfect man—it's like she's making the man of her dreams.How can she resist?
Though Lizzy loves seeing James in his clothes—and out of them—he isn't the kind of man you bring home to Daddy. Her father's disapproval and the pressure of the campaign have her eyeing the straight and narrow, but Lizzy's finding it awfully hard to resist the devil on her shoulder…
I received this book for free from in exchange for an honest review. This does not affect my opinion of the book or the content of my review.
EXCERPT
He has a face that—until now—only existed in my dreams. Hard jaw, chiseled to perfection. Firm, plush, kissable lips. Sharp, pristine blue eyes that feel like lasers zeroing in on me. He catches my gaze, and the devil's smile suddenly playing on his lips is worth a million bucks.
That's exactly how much it cost me. What this guy cost me. I would've paid so much more.
It's like he's the only man in the room. Like he belongs here. Confidence oozes out of his every pore. Masculinity envelops him as perfectly as his custom black suit. He walks like he owns the place. My heart beats harder and harder for him.
I can't believe I got him to agree to this.
Women are vying for his attention. His moves are smooth. Sophisticated. Elegant.
"An autograph?" a young woman asks shyly.
He takes the notepad and pen she extends and scribbles his name, his voice low and rough. "There you go." Beneath all that polish is his raw masculine energy. The determination that brought him here.
"James . . ." I halt him before we go any farther. "Whatever happens . . ."
He looks at me. A thousand words lingering in his look. "I know."
But does he? I've fallen in love with my own creation. I polished a diamond, and now it's flawless. Perfect. But it's not mine to keep.
He is not mine to keep.
This elite world he's about to join isn't one he was born into. These fans only know him because of me. His place at the top? That's not where I found him.