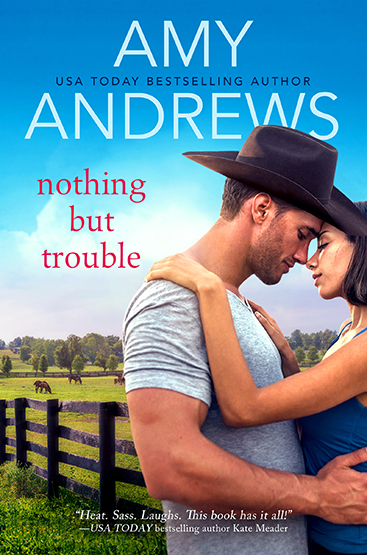 Nothing But Trouble
by Amy Andrews
Series:
Credence, Colorado #1
April 30, 2019
Amazon
| 
Kobo
| 
iTunes
| 
B&N

For five years, PA Cecilia Morgan's entire existence has revolved around playing "left tackle" to former NFL quarterback Wade Carter. She's so good at her job, the man can't even buy his own condoms! Well, today she's giving the Worst-Boss-Ever her notice.
To say CC's announcement was a bombshell is an insult to bombs. And horribly timed, with his publisher breathing down his neck. Not too many things defy Wade Carter. Well…except his mother. His PA. And the blinking cursor of doom.
Time to call an audible.
CC is gobsmacked. Three months in his small hometown—somewhere devoid of "female distractions," he says—while he finishes his book, and he'll cut her loose?! And he thinks a cowboy hat and dimpled smile and she'll just say yes? Penalty flag.
Wade can't believe CC and the council arranged busloads of single women to visit their dying town. She never gives up. But three Super Bowl rings prove he's no quitter, either.
But then their fighting starts to feel a whole lot like foreplay. What's a quarterback to do when he realizes he might be falling for his left tackle?
Time to throw a Hail Mary.
EXCERPT
"And that's where I had my first kiss."
CC tuned back in and focused on where Wade was pointing. It was the football field, a lush bright green amidst the faded wooden bleachers and the peeling goalposts.
"Right there under those bleachers." He smiled and sighed. "Kathy Williams. I became a man that day."
"It was that good, huh?"
He laughed. "I suspect it was terrible at first."
He shook his head, and a tiny little hitch near CC's heart snuck up and surprised the hell out of her. Her gaze was drawn to his profile, to the tilt of his lips. Usually those lips just exasperated the hell out of her, articulating his ridiculous demands, but, she had to admit, he had a great mouth. Kinda made a girl wonder what other demands lips like those could make.
Not that she'd ever wondered. Nor was she about to start. Crushing on her emotionally unavailable boss would be dumb. Especially when she was only a few months off never having to see him again.
"I fumbled it badly, went like a bull at a gate. She pulled away and said, 'softly, Wade,' and then…"
It was hard to believe Wade had ever fumbled anything. His had been the safest hands in the NFL. And he'd obviously improved beyond kissing, if that thing he did with his tongue was as good as Annabel had said.
"Well…" He smiled, obviously still caught up in the memory. "Let's just say she was patient, and I'm a fast learner."
"How old were you?"
"I was fifteen. She was seventeen. The head cheerleader."
CC rolled her eyes. "How very
Riverdale
of you."