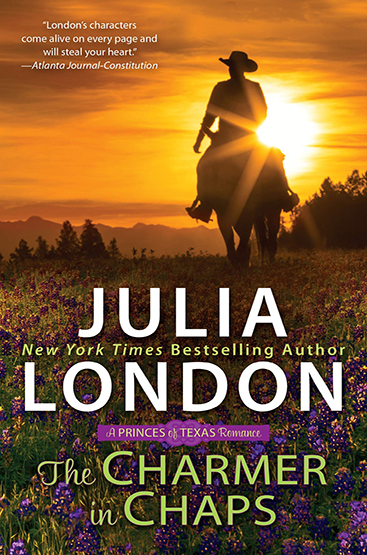 The Charmer in Chaps
by Julia London
Series:
The Princes of Texas #1
May 7, 2019
Amazon
| 
Kobo
| 
iTunes
| 
B&N

Cimarron County knows the youngest son of the fabled Prince family as a womanizing hell-raiser, but Luca has another side to him. He intends to turn the overworked pasture land his father left him back to its natural beauty. There's just one problem--a woman with sparkling eyes and more fight than a barnyard cat is grandfathered into some acreage on his portion of Three Rivers Ranch.
After years of living in foster homes, Ella has exactly three things to her name: A dog, a pig, and the rundown house she just inherited. Luca may not remember her from high school, but she definitely remembers him. He is as seductive as he was then, but Ella isn't about to fall for his flirting--if only she could stop melting at his touch.
What begins as a game of seduction for Luca quickly turns into something more, but Ella has learned the hard way to trust no one but herself--especially when it comes to her deepest secret. Yet the closer Luca gets to Ella, the more he wants to be the one she leans on. For once, Luca is determined to do something right and give the woman he loves the home she deserves.
INTERVIEW
First off, can you tell us a little bit about yourself?
I live in Texas and I've been writing romance and women's fiction for twenty-two years now. I can't believe it's been that long! I am a dog-lover, a slow runner and a Peloton enthusiast. That's my best foot forward. My other foot is one that's firmly planted in wine, trash TV and good, gooey brownies.
Can you tell us something that not a lot of people know about you?
Once upon a time I attended graduate school on a National Defense Education Act scholarship, and for that I had to study Arabic, and agree that for five years after graduation, I could be called up to serve in the foreign service or the defense sector in the event of a national emergency. None of those things came to pass, and I don't remember much about Arabic now. But for a short span of time, I could string together some sentences and write them, too. Why Arabic? Becasue I could get a scholarship. That's how I made decisions back in the days I was broke. I did go on to work for the federal government, but my heart was always into sunnier things, like good love stories, good loves, and good times. Thankfully, I got it together and became a writer.
Where did the idea for The Charmer in Chaps come from?
I grew up on a ranch in Texas and I thought it would be fun to write a series along the lines of Dallas meets Friday Night Lights. But in my version, the Prince family falls on hard times and has to figure out how to do life without all the privilege they've grown accustomed to. And I got to set it in my own backyard and include cows and dogs and Texas. So it was a win-win-big win for me.
Can you give us a little insight to the characters from The Charmer in Chaps?
The Prince family is at the heart of the series. They are rich and they are dysfunctional in ways that all families are dysfunctional. None of them have an ideal relationship in the family, but those relationships are worth fighting for. I love writing about real personalities, and real flaws, particularly when it comes to family dynamics. Readers will meet the matriarch, Mrs. Cordelia Prince, and her grown children: Nick, the oldest, and twins Hallie and Luca. All of them have to come to terms with what they really want out of life and how to get when their lives change. In The Charmer in Chaps, Luca has some dreams he wants to pursue that are way outside anything the family has ever done or is interested in doing. He has to figure out how to overcome the obstacles to achieving his goals. Who better to help him than a woman whose entire life has been one big obstacle? Former foster kid Ella Kendall isn't interested in Luca, and his is flabbergasted by that. What's not to like? He's handsome, he's rich, he thinks he's a lot of fun…and suddenly convincing Ella that he's likable is more important than anything else.
When you create your characters do you ever put bits of either your personality or bits of personalities from people close to you?
Sure. I think it's impossible for an author to keep herself completely separate from her characters. Same for people we know. But I would say each character is more of a composite of me and different people and my wild imaginations, and not really modeled on any one person. I would add that Cordelia, while not always likable, is more like me than any character I've ever written. I hope I am nicer than her, though.
Tell us a little about your writing process. Any pre-writing rituals or routines?
Not really. I usually work on more than one book at a time. I start off the day with a run before it's too hot or humid, then work on a book, then take a break and do some things around the house and come back to work on the next one. I have to treat it like a job, however. I have an office and go in it every day, just like someone was making me punch a clock. The discipline is the hardest part about writing, and as long as I keep to the routine, I seem to do okay.
What are some good books you've read lately?
A Good Enough Mother by Bev Thomas. I picked it up in France, but I think it will be published in the States in a month or two. I am reading The Night Tiger by Yang-sze Choo, and An American Marriage by Tayari Jones. Next up is Queenie by Candice Carty-Williams and an advance copy of The Bromance by Lyssa Kay Adams.
If you could collaborate with another author in writing a book, who would it be?
Yes! My very good friend Teri Wilson and I talk about it all the time. We like the same sort of books, we have similar writing styles, and most importantly, we think we are hilarious. We have dreams of writing something together, but our commitments have kept us from it. But maybe!
THANK YOU, JULIA LONDON!!