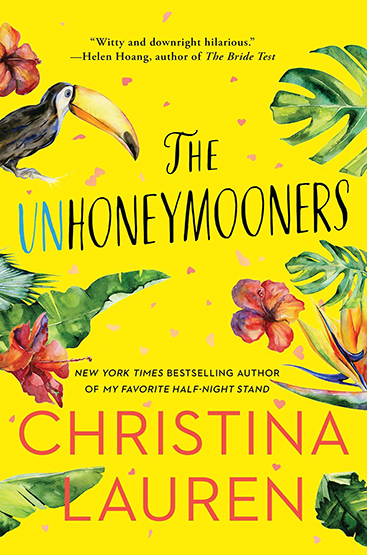 The Unhoneymooners
by Christina Lauren
May 14, 2019
Amazon
| 
Kobo
| 
iTunes
| 
B&N
| 
Audible

Olive Torres is used to being the unlucky twin: from inexplicable mishaps to a recent layoff, her life seems to be almost comically jinxed. By contrast, her sister Ami is an eternal champion . . . she even managed to finance her entire wedding by winning a slew of contests. Unfortunately for Olive, the only thing worse than constant bad luck is having to spend the wedding day with the best man (and her nemesis), Ethan Thomas.
Olive braces herself for wedding hell, determined to put on a brave face, but when the entire wedding party gets food poisoning, the only people who aren't affected are Olive and Ethan. Suddenly there's a free honeymoon up for grabs, and Olive will be damned if Ethan gets to enjoy paradise solo.
Agreeing to a temporary truce, the pair head for Maui. After all, ten days of bliss is worth having to assume the role of loving newlyweds, right? But the weird thing is . . . Olive doesn't mind playing pretend. In fact, the more she pretends to be the luckiest woman alive, the more it feels like she might be.
I received this book for free from in exchange for an honest review. This does not affect my opinion of the book or the content of my review.
REVIEW
This story was the most deliciously addicting story I've read in a really long time! I could not put it down once I started! It's absolutely going to be a top pick for 2019, I can already tell you!
The Unhoneymooners does not hold back with all the hilarious antics right from the start. This book had me laughing so hard at moments I thought my sides would burst. Christina Lauren put their all into making sure the outrageous humor we've all grown to love from them was all over Olive and Ethan's story.
We start off the book by learning that Olive believes two things to be absolutely true. Number one: She has a black cloud following her and giving her nothing but back luck, and number two: Ethan is a douche and hates her guts.
While this undoubtedly a friends to enemies romcom, Christina Lauren made sure to give all the feels in the must read! Most of the time the witty dialog had me laughing and almost peeing in my pants, but this story also had some emotional moments as well that had me tearing up and even feeling ragey.
The Unhoneymooners is the whole package! I loved everything about it!