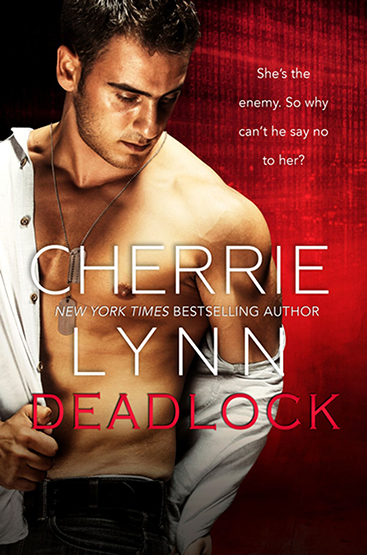 DEADLOCK
by Cherrie Lynn
Series:
Hacker World #1
June 25, 2019
Amazon
| 
B&N

Ex–Air Force hacker Jace Adams is the best at what he does. There isn't a system he can't infiltrate or a country his team can't topple. But when he finds Lena Morris, the woman he hates most in the world, on his doorstep, the last thing he wants to do is help her. Or is it really Lena?
Lindsey Morris can't believe her twin sister, Lena, is missing, with only a cryptic text to find the man Lena once betrayed. But as easy as Jace is to look at, getting him to agree to help her find her sister is a lot harder. He refuses to put his team at risk, until they find out the enemy they're facing may be one they have in common…
As Lindsey and Jace race against the clock to save her sister, their shaky truce begins to morph into a fire they can't control. But their lack of trust might be exactly what gets them killed.
To celebrate the upcoming release of Deadlock by Cherrie Lynn on June 25th, Entangled Publishing has arranged a Scavenger Hunt! Follow the links at the end of each stop and collect clues along the way! Click here to start at the beginning of the Scavenger Hunt. At the end, enter your clues to be entered to win the grand prize: a Nespresso Espresso maker and coffee goodies to keep your all-night hacking (or reading) sessions going strong. You might find a few bonus giveaways in hidden links throughout the Scavenger Hunt, too, including print copies of Deadlock!
I'm excited to share a Q&A with New York Times bestseller, Cherrie Lynn!
How did you select your character's names?
I liked these names because they fit the characters well. Honestly, sometimes it's no more complicated than imagining the character in my head, looking down a list of names and saying, "Ooh, yeah. She's a Lindsey" or "He's a Jace." And then it sticks, and I can never imagine them as anything else. I rarely rename a character once they're set in my head. It has happened, though.
Do you prefer to read in print or on an eReader?
I usually read on my Kindle Paperwhite, my tablets and my phone. I even read on my laptop sometimes. I'll read on whatever device is within reach. However, I do have shelves and shelves of beloved old books, and I'll take one down from time to time.
---
Scavenger hunt: Has Cherrie ever renamed a character?
Next stop: Aleatha Roming!
Deadlock releases June 25th! You can pick it up in paperback from Amazon Barnes & Noble, and wherever books are sold. Add it on Goodreads!
REVIEW
I am officially obsessed! I have been a huge Cherrie Lynn fan for a long time. When I read the synopsis for this book and saw who the author was I knew I just had to get my hands on it.
I could not have been more captivated! I have been sucked into this series and can not wait for the next one! I *NEED* to know EVERYTHING! There are so many things left open that I have so many theories about that I can't even stand it!
Can you imagine having an evil twin sister? Like. For real. An evil twin. Lindsey and Lena are the complete polar opposites but look exactly alike. So when Lindsey shows up on Jace's doorstep and he thinks she is Lena… well… things don't go very well. I was hooked right then!
Trying to find out what has happened to her sister, Lena and Jace take on us on an emotional rollercoaster ride to save her.
I NEED THE NEXT BOOK YESTERDAY! 😉