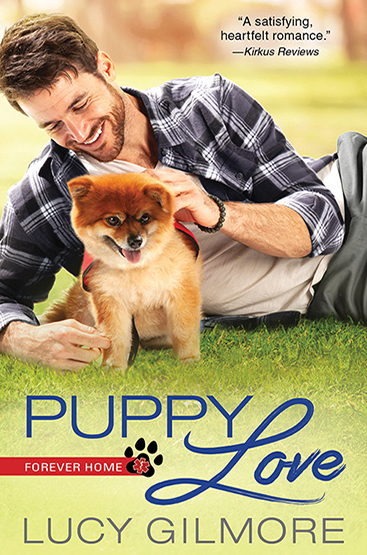 Puppy Love
by Lucy Gilmore
Series:
Service Puppies #1
May 28, 2019
Amazon
| 
iTunes
| 
B&N
| 
Audible
| 
BAM

No matter the job, no matter the need
These service dogs in training will always fall in love at first bark.
When Sophie Vasquez and her sisters dreamed up Puppy Promise—their service puppy training school—it was supposed to be her chance to bring some good into the world. But how can she expect to do anything when no one will take her seriously?
Enter Harrison Parks: a rough, gruff, take-no-bull wildlife firefighter in need of a diabetic service dog. He couldn't be a more unlikely fit for Sophie or Bubbles—the sweet Pomeranian she knows will be his perfect partner—but when Sophie insists he give them both a shot, something unexpected happens: he listens. Even better, he keeps on listening, even as Sophie and Bubbles turn his lonely, uber-masculine world upside-down.
As it turns out, they all have something to prove...and more than enough room in their hearts for a little puppy love.
I received this book for free from in exchange for an honest review. This does not affect my opinion of the book or the content of my review.
EXCERPT
Oscar didn't say a word as Harrison stretched out the sock and slipped it over the puppy's head. It went easily. There was so much fur on her, she could be decompressed to half her size. Gently guiding her limbs to fit through each of the holes he'd made was more difficult, especially since some of his measurements had been a little off, but the end result was about what he expected.
In other words, Bubbles was wearing a sock. One of his favorites too, the sweat-wicking kind he wore when he was out fighting fires for long stretches at a time.
"What the hell did you just do to that poor creature?" Oscar demanded.
"What do you mean? She loves it." Harrison set Bubbles down on the table. The puppy wriggled once, scratched twice, and decided she'd never been so pleased in all her life. With a toss of her head, she began prancing along the table's edge, just in case they hadn't noticed her the first time. "Look at her—she's preening."
Oscar scratched his chin. "Well, I'll be damned. She does like it."
"Hello, boys." A soft, feminine voice arose from behind them. "Sorry to barge in, but I rang the doorbell three times. No one answered."
Harrison's pulse leapt at the sound of Sophie's arrival. It wasn't a scared leap or an alarmed leap—it wasn't even a wary one, which should have been his reaction given how far she'd managed to push him already.
No, this was the most dangerous kind of leap of all—attraction.
His heightened pulse didn't lessen when he turned to find her standing in the doorway to the kitchen. He'd been more grateful than words could express when she'd showed up yesterday wearing sensible pants and a shirt with a Puppy Promise logo embroidered on the front. She'd still looked amazing, of course. The playful wisps of her short hair set off her pretty features, and the simplicity of her attire only enhanced her neat figure. But the uniform had helped.
I'm here to do a job, that uniform said. I'm here because of the dog.
Today, she'd gone back to wearing her own clothes. He wasn't sure why the sight of her in faded jeans and a loose gray top should be so alarming, but he suspected it had something to do with the gentle curve of neck exposed on one side of her shirt. He'd seen women wear similar clothes before, but there was something about the sight of Sophie's bare clavicle that made it difficult for him to breathe.
He wanted to kiss her there. He wanted to run his fingers up and down that slope of perfect skin until she shivered under his touch.
She shifted slightly, the shirt shifting with her. As if aware he was watching, the material slid even farther, giving him a glimpse of the rounded softness of her shoulder, broken only by a thin pink bra strap.
Shit. What was he doing? He couldn't lust after Sophie. Not when she showed no signs of reciprocation. Harrison might go numb at the sight of her dressed in casual wear, but he doubted his jogging pants and decades-old Pink Floyd T-shirt were doing anything in return. Nor was she likely to lose herself at the sound of his rough grumbling.
"Sorry," he said in a voice that was, unfortunately, both rough and grumbling. "The doorbell doesn't work. It hasn't worked in years."
"Nothing around this place has worked in years," Oscar added with a cheerfulness that seemed inappropriate, given how recently he'd been threatening Harrison's life and livelihood. "Except for Harrison and Wallace, of course. Two more dedicated workaholics I've never met in my life—it's the only thing they're good at, if you want the truth."
He wasn't wrong. As much as Harrison would have liked to leap to his own defense, there wasn't much to say. He wasn't a man with varied interests or a whole hell of a lot going on in his personal life. Fighting fires was literally the only thing he was good at—the only thing he'd ever been good at since the summer he'd turned fourteen and made friends with a group of delinquent kids from around town.
His dad had been working around the clock at the time—his default for as long as Harrison could remember—so when he'd caught his son in the middle of a tractor-stealing incident, he'd handed him over to Oscar with plea that he do something with the blasted boy.
Oscar had done it, of course, and in the process, created a monster. An irritable, overworked, firefighting monster who had nothing to offer a woman except a newfound talent for making dog sweaters out of socks.
"Speaking of, when can I expect to have him back?" Oscar asked. "I've got a contract to start training a team from Fairchild Air Force Base with his name written all over it."
"Right now." Harrison almost shot out of his chair in his enthusiasm. Work would get him away from this house. Work would distance him from Sophie and her goddamn shoulder. "Pull the crew together, and I can start the training as soon as you want. You know how valuable the air force support can be for the flyovers. We've been after a contract with them for years."
"I do know, which is why I'm going to delay the training until you're free to run it." Oscar turned his attention to Sophie. "What do you anticipate? What's the expected timeline?"
Sophie glanced down at the puppy, considering. Not by so much as a flicker of a long, curled eyelash did she betray that she noticed anything out of the ordinary about Bubbles's appearance.
Harrison couldn't decide whether to be grateful for her tact or outraged at her disinterest. He'd worked really hard on that sock.