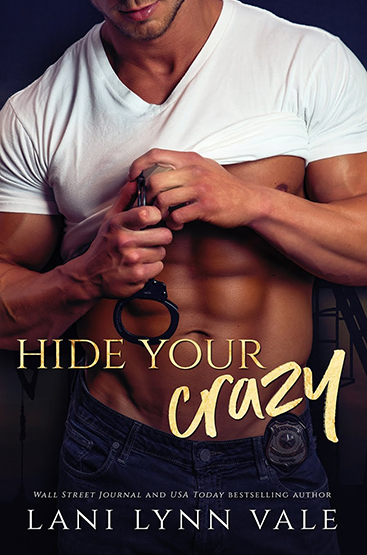 Hide Your Crazy
by Lani Lynn Vale
Series:
KPD Motorcycle Patrol #1
June 11, 2019
Amazon
| 
Kobo
| 
iTunes
| 
B&N

I'm kind of a lady, but definitely more of a weirdo.
Hearing the woman at the table behind him say that to her friend should've turned Logan Gibbs off.
It doesn't. In all honesty, it only makes him listen harder.
He's had enough weird in his life to last a lifetime. The last thing his complicated life needs is a woman in it who has no clue what color you get when you mix yellow and blue together.
Yet, her obvious blonde moments aren't enough to deter him. Nor is her lack of finger-painting skills.
I'm a cop, not a miracle worker.
Hearing the man in the group behind her say that should've had Katy Roberts running away as fast as her feet would carry her. Katy's father's a cop, and it's hard enough to live her life with Daddy trying to dictate her every move. She needs another cop in her life like she needs yet another thing to go wrong.
To add onto that, she can't find a job, has no love life to speak of, and has to be the oldest known virgin in Kilgore, Texas.
Yet, when she sees his painting—a painting that resembles a piece of the male anatomy more than the lighthouse they were supposed to be painting—she knows that she has to give him a chance.
The very last thing the two of them expect is for her father and his boss to force them to marry after an eensy-weensy accident. An accident that, surprisingly, both of them want.
I received this book for free from in exchange for an honest review. This does not affect my opinion of the book or the content of my review.
REVIEW
Here is what I have grown to love about Lani Lynn Vale and her stories in the short time I have been a reader: She know how to pact it all in!!
Lani will have you laughing one minute and ready to throw your kindle the next. She knows how to get it all into the story but the for the most part keeps you laughing over the witty dialog and hilarious situations her characters wind up in.
Hide Your Crazy is the first in a new series, KPD Motorcycle Patrol but I will warn you that is appears this is a spin off from another series by Lani. I did not learn this until after I finished the book and I have to say I did not feel like I was missing anything. So it totally safe to just jump into Hide Your Crazy. Having said that, I also now want to continue digging through the rest of Lani's catalog.
Logan and Katy are everything and you can't help but to keep cheering them on as the story develops. I mean, Logan and Katy meet when he gives her a ticket in his newly acquired TIGHT motorcycle patrol uniform. 😉 Enough said? Throw in some rebellious pets and I was hooked until the end!
It's become evident that I need to schedule out when I am going to start a Lani Lynn Vale book because I cannot book them down once I start them!