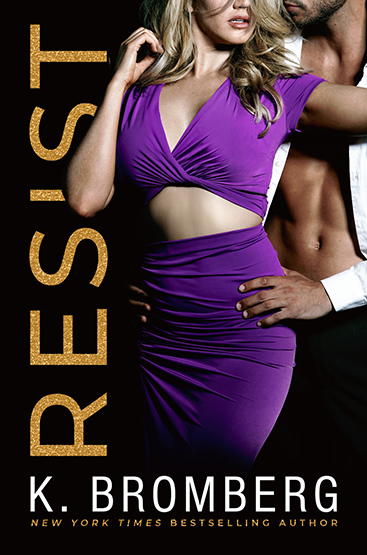 RESIST
by K. Bromberg
Series:
Wicked Ways #1
July 30, 2019
Amazon
| 
Audible

From the New York Times bestselling author of the Driven series comes a powerful romance about reaching great heights through low depths.
Who says you have to play by the rules to get what you want?
Agreeing to meet Ryker Lockhart is my first mistake. Rich, handsome, and more than intriguing, he thinks blackmail will bend me to his will.
But he's wrong.
I may have done a few things that weren't exactly legal, but I have my own reasons for that. The last thing I'm going to do is let some high-powered divorce attorney come into my life, have my body, and rule my heart. Not to mention ruin everything that I have carefully built in just a short amount of time.
But as much as I try to resist him, and against my better judgment, there is something about him that has me agreeing to his proposal.
I'm putting everything on the line for him. I just hope I won't lose everything when this is all over.
I received this book for free from in exchange for an honest review. This does not affect my opinion of the book or the content of my review.
REVIEW
I didn't really know what to expect when I started
Resist
by K. Bromberg. The only thing I knew was that it had been mentioned
Resist
had a '
Driven
feel' to it. As a reader who was hugely obsessed with K. Bromberg's
Driven
series, that was all I needed to hear in order to make
Resist
a must read. And lordy how she delivered in the angst, intrigue and heartbreak.
One of the things that I really loved about Resist is that it's the heroine that is maybe what we would consider 'a little broken' if you will, rather than our hero. Not to say Riker doesn't have his own issues, but Vaughn is the one in this story that will literally make you bang your head against the wall and want to throw your kindle out the window.
However, there are also times when I thought to myself, `How can I be more like Vaughn?'. She will make you stand up and cheer in those moments when she shows the world she is the boss and holds all the power.
And then there's Ryker. Poor guy keep chasing Vaughn and pushing her even when most men would give up in complete frustration. Fair warning: he will make you fall madly in love with him and be at the top of your book boyfriend list. Not because of his flowery words, but because of his ruthless determination to win over Vaughn.
Bromberg is the queen of the push and pull, cat and mouse chase. The kind that leaves you sitting at the edge of your seat and just when you think she's going to give you what you want, she rips it right out from under you!
I can't say enough amazing things about Resist. You should absolutely dive into Vaughn and Ryker's story as long as you can handle a rip-every-piece-of-your-heart-out cliffhanger… but no worries, the conclusion, Reveal, comes out September 24th.
We'll survive the wait… right?!