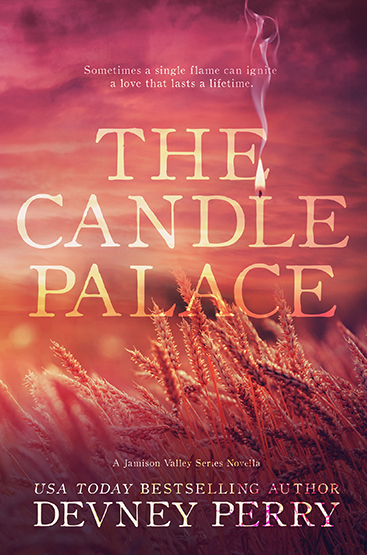 The Candle Palace
by Devney Perry
Series:
Jamison Valley #6
August 20, 2019
Amazon
| 
Kobo
| 
iTunes
| 
B&N

Kaine Reynolds wants nothing more than solitude. After an unthinkable tragedy destroys his family, he's cut off all ties to his former life so he can battle his grief the only way he knows how.
Alone.
So when Piper Campbell knocks on his door, rambling on about being his new neighbor, he slams the door in her face.
But Kaine's gruff demeanor doesn't scare her. She's set on living in Montana and starting over after a terrible divorce. And she wouldn't mind having a fling to chase away the pain of her husband's betrayal. Her handsome, albeit rude, neighbor is the perfect candidate.
Yet what neither of them suspect is that their no-strings affair will result in the surprise of Piper's lifetime—and Kaine's worst fear.
I received this book for free from in exchange for an honest review. This does not affect my opinion of the book or the content of my review.
REVIEW
Will Devney Perry ever disappoint?
Lordy I hope not.
Devney Perry has surely become one of my go-to authors. I will read anything she writes because she has never, not once, not delivered a story that has taken hold and kept me completely captivated. The Candle Palace was no different! I devoured it as quickly as I could.
I wish I could learn to savor the stories Devney gives us, but sadly it's no use – as soon as I start one I just am unable to put it down until the very end.
Milo has absolutely always held a place in my heart since The Coppersmith Farmhouse. I'm so glad Devney gave us his and Sara's story. I'm not a big novella reader, but I couldn't turn down getting to spend time back in Jamison Valley. Somehow Devney was able to put in all the emotion and heart-warming moments we've come to know her for packed into this shorter story.
I loved getting to know this amazing side to Milo and learning all about the woman who took hold of his heart. Loved it, loved it, loved it!
This novella can absolutely be read as a standalone… but DON'T DO IT! READ THE WHOLE SERIES! You can ask anyone who has read the Jamison Valley series, you are surely missing out if you don't start at the beginning!