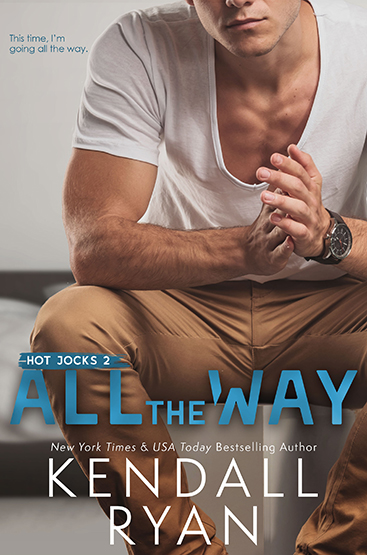 All The Way
by Kendall Ryan
Series:
Hot Jocks #2
September 24, 2019
Amazon
| 
Kobo
| 
iTunes
| 
B&N
| 
Audible

I know it's time to move on from my rocky past and get back out there and start dating again.
It's just that every time I think about it, I get all nervous and sweaty.
Good thing I have a secret weapon to help me—my best friend, professional hockey stud Owen Parrish.
He's the king of hookups, and promises he'll be my guide through the world of online dating. With his help, I know this won't be as hard.
• • •
I've never been this hard in my entire life.
My friend Becca wants my help hooking her up with some douchey guy from a dating app.
I said I'd help her—but now I'm noticing all kinds of things I can't ignore, like how pretty she is behind those baggy clothes and messy buns.
I want to be the one to help her, to show her the ropes in the bedroom, and it turns out, Becca's game to let me take a more hands-on approach.
But what happens when she's ready to take her newfound confidence and move on? I've never been boyfriend material, but for her, I want to try.
I received this book for free from in exchange for an honest review. This does not affect my opinion of the book or the content of my review.
REVIEW
Oh how I have always had a love for Kendall Ryan and her words.
All The Way
has only just completely reinforced it!
All The Way is about our heroine, Becca, and our super hot alpha hockey player hero, Owen. Becca is a sexual assault survivor (yes, survivor – not victim). Owen is a famous goalie for the hockey team Becca works for and is known for his manwhore ways.
Now, I read Playing For Keeps, the first book in this series, so I had already met Becca and Owen. Knowing they were the next ones to get their HEA, I just could not see it. I kept questioning how Kendall was going to pull that off. A sexual survivor and a manwhore…?
I seriously don't know why I even questioned Kendall for a second. She not only pulled it off – she NAILED it! She made that magic happen and made me fall head over heels for these characters. I could not get enough and did not want it to be over when I got to the end!
Kendall had me immersed in the chemistry between these characters from the first page! She kept me on the edge wanting more and knowing just when and how to pull off all the sexy that was Becca and Owen.
If you are looking for something sweet and romantic, look no further. This is the book you need on your kindle!