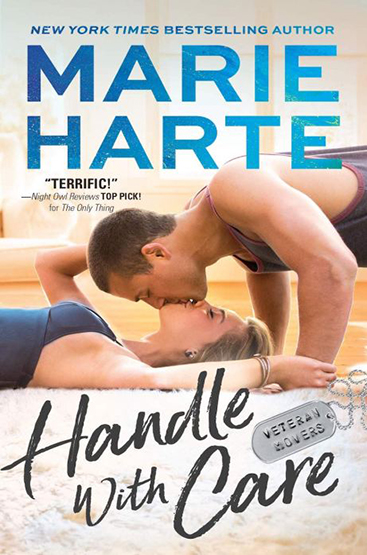 Handle With Care
by Marie Harte
Series:
Veteran Movers #3
August 27, 2019
Amazon
| 
iTunes
| 
B&N
| 
BAM

Evan Griffith has had a hell of a day...
And that was before he met the stunning, sexy woman having a meltdown.
Evan Griffith has had many careers in his life. But who knew working for his family's moving company would hold just as much action as his stint in the Marine Corps? On an unforgettable job, Evan finds himself taken by a teenage conman and confronted by a woman wielding a knife—and promptly falls head over heels for her.
Kenzie Sykes is doing her best to raise her little brother and keep him out of jail—all while dealing with her own broken heart that just hasn't healed. She doesn't have time for romance. He's not asking... Until he is, and she finds herself saying yes.
I received this book for free from in exchange for an honest review. This does not affect my opinion of the book or the content of my review.
REVIEW
Y'all. I'm in love with Evan. Please have some respect and keep your hands off, because he is all mine.
I have seriously have fallen in love with all of the Vets On The Go! guys! Reid and Cash were amazing and I could not get enough of them. But let me tell you, Evan has really taken the prize of who is my favorite. First the spot was held by Reid, whom Cash stole it from. And I didn't think anyone could take Cash's place, but lo and behold – here comes Evan. They just keep getting better and better.
And yes.. I liked Kenzie too. Kenzie was an absolutely inspiring heroine as a business owner who was raising her little brother. Kenzie and her nutty group of friends were a great addition to the series. I'm sad we didn't get more time with the Vets On The Go! group in this story, but Kenzie and her friends were able to keep me in stitches.
I would advise reading the previous books, The Whole Package and Smooth Moves before jumping into Handle With Care. You can probably read it as a stand-alone, but you will be missing out on a lot of back story and tons of hilarious banter.