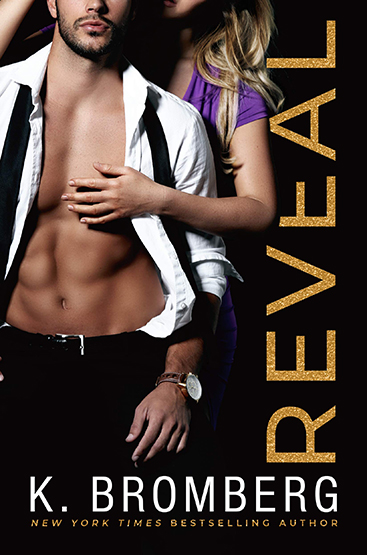 REVEAL
by K. Bromberg
Series:
Wicked Ways #2
September 24, 2019
Amazon
| 
Audible

From New York Times bestselling author K. Bromberg comes the raw, sexy, and jaw-dropping finale to the Wicked Ways series.
I play to win, and I won't let anything—or anyone—get in the way of what I want.
The first time I met Vaughn Sanders, I knew I wanted her. Confident, intelligent, and downright sexy. I thought I knew how to play her game. I was ready and willing for the challenge. Little did I know she was full of secrets and surprises.
But so am I.
Charming a woman into my bed has never been my problem. It's the relationship part that is. They want it. I don't. But can you blame me? Broken marriages are how I make a living. Hell, no self-respecting man would let a woman own his thoughts, invade his dreams, and steal his heart. So how in the world has Vaughn done that to me?
I've fallen in love with her. There. I said it. But that acknowledgment comes with a heavy price.
Everything and everyone seem to be working against us, leaving us both to question whether what we have is worth the cost.
I'll be damned if I go down without a fight.
I received this book for free from in exchange for an honest review. This does not affect my opinion of the book or the content of my review.
REVIEW
Oh how that cliffhanger at the end of
Resist
nearly killed me. How did we all survive?
If you have not read Resist, please skip this review as you need to read Resist before Reveal and this review might contain spoilers regarding Resist.
We met and fell in love with Vaughn and Ryker in Resist and learned all about their stubborn personalities. But no one would deny the chemistry between them was jumping at you from the pages. I literally felt emerged in it the whole time while reading.
Now, if you thought the push and pull between these two was over in Resist, I hate to break it to you, but it is most definitely is NOT! Personally, I kind of love the way K. Bromberg can keep you at the edge with the way she has her characters making you sweat.
She kept both characters strong independents and didn't have the other one saving the other. As much as Ryker wanted to save Vaughn, she had to save herself. I REALLY loved that! While these characters might have been struggling (and can even say a little broken) they were not there to save one another. They were simply there to love each other.
Everyone loves a white knight but sometimes a girl needs to take care of herself.
Reveal offers a lot more surprises, twists, heartbreak and intrigue that keeps you begging for more.