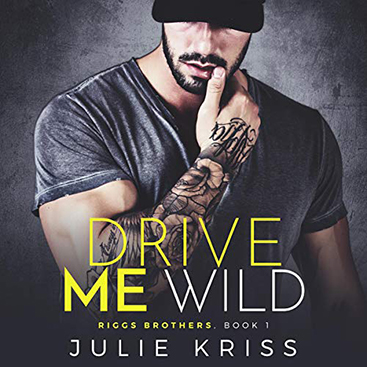 Drive Me Wild
by Julie Kriss
Series:
Riggs Brothers #1
Narrator:
Erin Mallon, Joe Arden
June 25, 2019
Amazon
| 
Kobo
| 
iTunes
| 
B&N
| 
Audible

A bad boy. A good girl. A second chance that could send them both up in flames.
Emily was a cop's daughter, and I was the boy from the wrong side of the tracks. At eighteen, our affair was wild and completely secret. Until she left town for college and a better life, and I hit the road to nowhere.
Eight years later, we're both back in town. My father is in prison; Emily is selflessly helping her sister. We should be farther apart than we've ever been. But I've never been able to resist temptation, especially when that temptation is Emily.
I shouldn't go near her. But I do.
She shouldn't say yes. But she does.
Our chemistry is hotter than ever, but she's hiding something from me. Just like I'm hiding something from her. It's hard to tell whose secrets are more dangerous, until it all goes to hell.
I can save her - and she can save me. But we'll have to break the rules.
We're from different worlds. We don't belong together.
But in the end, Emily and I are going to have to get dirty.
I received this book for free from in exchange for an honest review. This does not affect my opinion of the book or the content of my review.
REVIEW
Julie Kriss is a new to me author, but I can see myself already becoming addicted to her words! However, Erin Mallon and Joe Arden are absolutely not new to me and happen to be some of my favorite narrators! I could listen to them read the phone book and I'd be just fine.
Now, I did end up thoroughly loving these characters. However, Emily, our heroine, takes some warming up to. The way she treats Luke, our hero, in the beginning doesn't win herself over to anyone. She's the daughter of the most respected cop in town and he is the son of one of most disliked men in town.
When they both end up back in their hometown at the same time years later, of course sparks are going to fly between the two.
What I really loved in the story was Julie Kriss being able to show these character's growth. Even when the story takes place years later when they're back in their hometown, Julie still has these characters learning about themselves and what they want.
Drive Me Wild has absolutely dying for the rest of the Riggs brothers.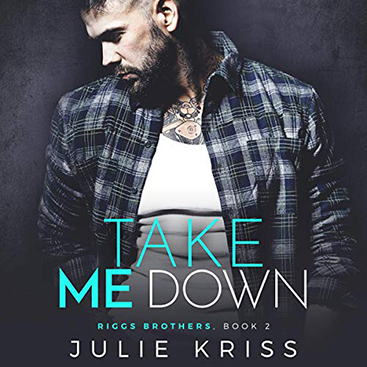 Take Me Down
by Julie Kriss
Series:
Riggs Brothers #2
Narrator:
Joe Arden, Erin Mallon
August 20, 2019
Amazon
| 
Kobo
| 
iTunes
| 
B&N
| 
Audible

A buttoned-up counsellor. A hot ex-con with secrets. One session that changes everything.
It was supposed to be simple: Let Jace Riggs walk into my counseling office, tell me how he's adjusting to post-prison life, and let him walk out again. But the first thing I've learned is that nothing is simple with Jace.
He's tall, muscled, bearded and tatted. He's smarter than anyone else in the room and ten times more guarded. He's hiding things that would break any other man to pieces. He's a loner, a bad boy, and an infamous Riggs brother from the wrong side of the tracks.
He's a hundred kinds of wrong for me. And even when I'm not his counsellor anymore, I still want to break down his defenses.
Jace has never trusted anyone - until me. He says I'm the only woman he wants close to him. The only woman he's wanted in his bed - ever. And when he looks at me with that look of white-hot fire, I believe everything he says.
My own secrets could get Jace sent back to prison - or get him killed. And he doesn't care.
We had so little time. We might not have until morning. But with the fire ignited between Jace and me, forever wouldn't be long enough…
I received this book for free from in exchange for an honest review. This does not affect my opinion of the book or the content of my review.
REVIEW
After listening to
Drive Me Wild
I couldn't wait to dive into
Take Me Down
! I can confess that I am absolutely addicted to these Riggs brothers!
Drive Me Wild
introduced all four brothers to us and Julie Kriss did a fabulous job giving them all unique personas that have me obsessed with every one of them!
But let's talk about Jace. Who doesn't love a virgin hero? They're rare and have become one of my favorite tropes!
Everyone has their assumptions about Jace Riggs but no one can understand his past actions and why he did the things he did. This is what drew him to me the most. The intrigue. You will WANT to understand Jace. No, let me correct that. You will NEED to understand Jace!
Tara is strong and independent, and just everything I love in a heroine! She was absolutely Jace's perfect match.
I am also loving the storyline with the brothers and how they are reconnecting. I am anxious for the next book in the series in for no other reason then for the interactions with the brothers and watching them bond again!