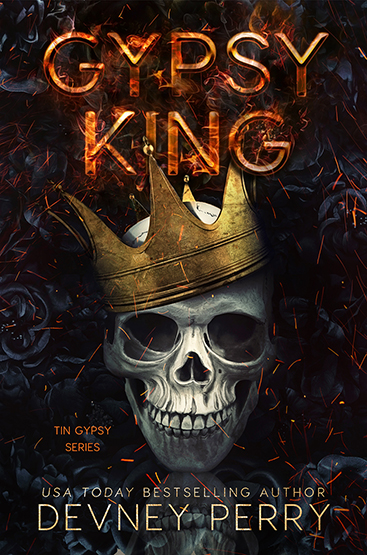 Gypsy King
by Devney Perry
Series:
Tin Gypsy #1
October 29, 2019
Amazon
| 
Kobo
| 
iTunes
| 
B&N
| 
Audible

The former Tin Gypsy motorcycle club has everyone in Clifton Forge, Montana convinced they've locked their clubhouse doors and ripped off their patches. Everyone but Bryce Ryan. There's more happening at the club's garage than muscle car restorations and Harley rebuilds. Her instincts are screaming there's a story—one she's going to tell.
As the new owner of the small town's newspaper, Bryce is hungry for more than birth announcements and obituaries. When a woman is brutally killed and all signs point to the Tin Gypsies, Bryce is determined to expose the club and their leader, Kingston "Dash" Slater, as murderers.
Bryce bests Dash match after match, disappointed her rugged and handsome opponent turns out to be an underwhelming adversary. Secrets are exposed. Truths defeat lies. Bryce is poised to win this battle in a landslide.
Then Dash breaks all the rules and tips the scales.
One kiss, and she's fighting to save more than just her story. She's fighting to save her heart from the Gypsy King.
I received this book for free from in exchange for an honest review. This does not affect my opinion of the book or the content of my review.
REVIEW
Can men who were once ruthless, murders, thieves and were so far from the right side of the law they couldn't even see the other side… suddenly change?
Bryce Ryan doesn't think so.
We met the Tin Gypsies in Devney Perry's The Clover Chapel and learned who they were and what they could do. However, Gypsy King can be read as a stand-alone. Honestly, I read The Clover Chapel a long time ago but I don't feel like you're missing any backstory other than meeting these characters.
I really enjoyed the cat and mouse game Devney Perry created between Bryce and Dash. This push and pull they had was everything it needed to be for these characters to come together. It was fun, entertaining and also aggravating at times. I loved it!
What I also love is some good suspense. And Devney Pretty left that suspense open for the book in the series that follow… and let me tell you, I'm hooked! I want to meet the next couple, but I also want some answers!
Bring on Riven Knight!