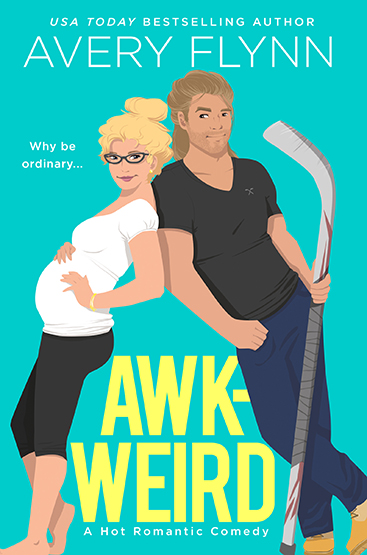 Awk-Weird
by Avery Flynn
Series:
Ice Knights #2
October 14, 2019
Amazon
| 
Kobo
| 
iTunes
| 
B&N

There's more to me than just being awk-weird. I own my own flower shop, have some great friends, and I have my eye on adopting the most adorable kitten. But sadly, hot guys don't tend to be blown away by my trivia-spouting, dorky self.
So, when a Thor-lookalike who happens to be a professional hockey player hits on me at my bestie's wedding rehearsal party ... You better believe I climbed that tree like a cat. And the face that it happened not once, not twice, but three times? Yeah, that's pretty much a once-in-a-lifetime experience for a woman like me.
There's zero chance I'll end up ever seeing him again...right?
Until the pregnancy test comes up positive. What happens next?
Oh my God, I wish I knew...
I received this book for free from in exchange for an honest review. This does not affect my opinion of the book or the content of my review.
REVIEW
If you have not discovered the amazingness that is Avery Flynn, YOU ARE MISSING OUT! You need her stories in your life! I had a friend recommend
Butterface
to me a while back and I have been devouring her books ever since! Do not walk, do not pass go, RUN! I promise you WILL NOT regret picking up a book by Avery Flynn!
Awk-Weird was no different. I could not put it down! Awk-Weird had all the laugh-out-loud moments and heart-warming goodness I've come to love from Avery Flynn.
We met Tess a long time ago in Butterface and I've been (not so) patiently waiting for her to get her happily ever after. She awk-weird fact rambling has endured to me the best way! And Cole was absolutely a swoony hero who was perfect for her!
Really, these characters could not have been more perfect for each other! They both have a need for control over their lives thanks to ever-changing childhoods. Cole is a little OCD and has to have everything stay with his routine. Tess always treats everyone and everything as something temporary so she would be disappointed with things end.
Throw in a crazy devil cat, some meddling best friends and you have a recipe for an amazing story!