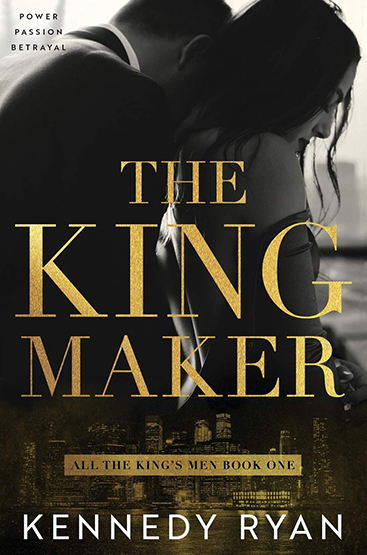 The King Maker
by Kennedy Ryan
Series:
All The King's Men #1
October 28, 2019
Amazon

Ambition. Passion. Betrayal.
Raised to rule, bred to lead and weaned on a diet of ruthless ambition.
In a world of haves and have nots, my family has it all, and I want nothing to do with it.
My path takes me far from home and paints me as the black sheep. At odds with my father, I'm determined to build my own empire. I have rules, but Lennix Hunter is the exception to every one of them. From the moment we meet, something sparks between us. But my family stole from hers and my father is the man she hates most. I lied to have her, and will do anything to keep her. Though she tries to hate me, too, the inexorable pull between us will not be denied.
And neither will I.
I received this book for free from in exchange for an honest review. This does not affect my opinion of the book or the content of my review.
REVIEW
Holy crap! This book… this book… I can't. I don't even know if I can find the word for this book. I'm going to try but I literally am ripped to shreds right now.
The girl who chased stars… We meet Maxim and Lennix when they're young and full of ideas. They're passionate about the people they want to become and the changes they want to make in the world. Seriously – these characters are going to inspire you. They are going to make you question what you've done with your own life. They're going to make you take a second and wonder what you can do to better this world we live in.
I read The King Maker within the time frame of 24 hours and I was completely ripped apart and put back together again MULTIPLE TIMES by these amazing characters Kennedy Ryan created! She put these characters through SO MUCH! My heart could not handle everything she threw at them! SO MUCH! It was such a delicious sweet burn when these characters connected but oh the heart-ache and misery you will go through with them on this journey…
And we're only halfway there. This ia duet and the second book, The Rebel King, comes out in a couple of weeks. I seriously don't know if I can survive anymore. HOW MUCH MORE CAN THESE CHARACTERS TAKE!? I say this, but please know I'll be staying up all night as soon as The Rebel King hits my kindle.
I need to know what happens to Lennix and Maxim. You will too. These are characters that are going to stay with you for a long time after.
Be prepared for the biggest book hangover you've ever had.
EXCERPT
"What do you want?"
The look he pours over me is hot oil, burning me even through serviceable layers of cotton. His heated perusal caresses my face, sluices over my breasts and hips, and then pools at my feet.
"Oh, that you won't ever get again," I say, my voice a soft, certain promise. "I don't screw liars. I'm particular that way."
"Never say never," he drawls, tilting up my chin with his finger.
"Nev–"
He crushes the word between our mouths. It falls apart in the scorching, sweet tangle of lips and teeth. With one hand, he digs his fingers into my hair. The other splays across my lower back, his grip on me almost convulsive, urging me up and closer. I'm in stasis. I'm completely startled by the kiss, unable to respond. I send a desperate message to my brain.
            Move. Pull back. Push him away.
But the urgent glide of his hand down my spine to cup my ass melts my thoughts to liquid and they swim in my head. I can't pull back, and all hope of resistance dissolves when he presses his thumb to my chin, prying me open. He stalks my tongue, hunts down a response, licking and sucking and groaning and growling. His hands tighten on me until I strain up to seek him, yanking his hair, pulling him even closer.
"Dammit, Nix," he mutters between kisses. His hand wanders down my neck and across my shoulder, and cups my breast, twisting the nipple through flimsy barriers of cotton and lace. He shoves up my skirt, pulling my legs wider, and pushes my panties aside, his fingers invading me. My body remembers this mad craving that claws out of my bones—that wants out. That wants him. Under his rough touch, my body blooms and my hips rock.
"That's it," he says, taking my earlobe between his lips.
My head falls back and I moan. It's so damn good. His touch awakens me. His hands, his kisses bring me to life. It feels like I'm taking my first deep breath since we were last together, and it fills my lungs, seeps into my pores.
"I missed you," he says, sucking my lips and kissing the corners, quick, hungry. "I'm sorry. Baby, I—"
"Stop talking." I reach between us to loosen his belt, catching his zipper and dragging it down, dragging him out. "Shut up."