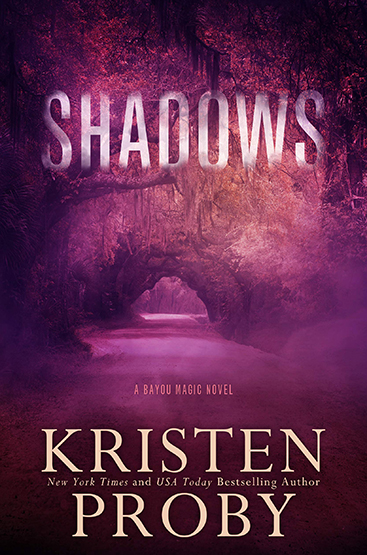 Shadows
by Kristen Proby
Series:
Bayou Magic #1
October 29, 2019
Amazon
| 
Kobo
| 
iTunes
| 
B&N

I am never alone. Not even when I am alone.
I see the unquiet dead, the souls that wander through the French Quarter.
They can't move on, and I can't stop seeing them.
I wear malachite for protection, and I control what I let in. It's the only way to stay sane. Everything changes the day Cassian Winslow joins my ghost walking tour and knocks my world off its axis with green eyes the color of the stone around my neck.
An unspeakable evil is loose in New Orleans, taking young women and leaving a bloodbath in his wake. More shadows lurking for me. More unhappy dead. There might be a way to stop it.
Open myself up to Cassian.
If I do, it could spell his death.
But if I don't, it's mine.
I received this book for free from in exchange for an honest review. This does not affect my opinion of the book or the content of my review.
REVIEW
When Kristen Proby announced she was going to write a paranormal romance… I nearly cried. It was like walking downstairs on Christmas Day and seeing that Santa brought you everything you ever asked for.
Shadows was EVERYTHING! I love a good mystery and some intrigue. I love trying to figure out it all out only for the author to throw everything I thought out the window by there being a new plot twist coming out of nowhere! I love it all!!!
Brielle and Cash were FIRE! The instant chemistry burned through the pages! Kristen Proby did an incredible job handling these characters trying to start a relationship in the midst of chaos, and making it believable!
I will say the primary focus was on the mystery of who the serial killer was rather than the romance between our characters. Which was perfectly fine in my opinion. It worked for this story and I probably would have been a little bummed if the focus was put on some angist between the couple in the story rather than them trying to catch the killer.
But let me give you a few tips for reading Shadows (because you know you're gonna):
Do NOT read Shadows in the pitch black with only your kindle screen as your source for light.
Do NOT read Shadows if you are home alone.
Do NOT read Shadows right before trying to go to sleep, knowing you have to be up at 5:00AM for work.
Yes. I did ALL of these. And let me tell you, I DID NOT SLEEP A WINK! Every single noise had my ass jumping out of the bed in search of the source!
This book will give you the heebie-jeebies and make you question the existence of ghosts, the paranormal in general, and what kind of sickos we live with in this world!
EXCERPT
"As I was about to walk down the street, I turned, and there was a shadow on the sidewalk. Just standing there. I've never seen her before."
"Her?"
"Yeah, she was about my height. Very feminine."
"Did she say anything?"
"Not that I heard. It just threw me because you know how careful I am about my route. I don't like surprises, especially not like this. It's creepy as hell. And, yes, I know I should be used to it by now, but—"
"It's creepy, like you said." She leans on the counter and bites her lip, thinking. "It probably means that someone recently died there."
"I know that."
"And now it's a new spirit on your tour. Too bad she didn't say anything. If she did, you could add it to your show. Could be fun. 'Lucy was killed in this building three days ago, and her spirit now wanders the sidewalk in front of her former home.'"
"Talk about creepy."
I sigh and run my fingers through my hair. "Did you sweep this area recently?"
"Is the floor dirty?"
I look at her as if she's being obtuse on purpose. "You know what I mean."
"It's been about a week."
"You need to do it again."
Millie frowns, looking around the space. Her shields are as strong as mine, maybe stronger because she doesn't just see the dead, she feels them, and that's much more dangerous.
She fiddles with the amethyst around her neck.
"What do you see?"
I narrow my eyes. "I shouldn't tell you."
"I don't want to look, Bri. I dropped my guard for just a second earlier and was slammed with the pervy thoughts of a nineteen-year-old college kid who couldn't take his eyes off my ass. So, just tell me. Is it the little girl again?"
"Yeah. And she brought a friend." I reach over to take my sister's hand. "Don't drop your shields anymore, Mill. Not for a minute. Ever. I know we live and work here in the Quarter because it's where we make our living, but it could really hurt us."
"I know."
"I couldn't bear it if I lost you, too."