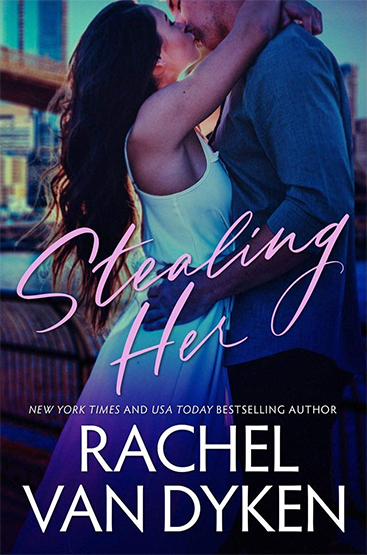 Stealing Her
by Rachel Van Dyken
Series:
Covet #1
November 5, 2019
Amazon

My estranged twin brother, Julian, was always the wonder boy - and soon-to-be CEO of our ruthless father's corporation. My mother and me? Left behind. Now, years after tearing our family apart, my father dares to ask "me" for a favor? Pretend to be Julian while he fights to survive a tragic accident. It can save the company. Nobody will be the wiser. It'll be our secret.
I can play Dad's favorite. I'll do anything for Julian. And for my mother, who'll want for nothing.
But this double life comes with a beauty of a hitch: my very real feelings for Julian's fiancée, Isobel. Not only am I betraying Julian, I'm deceiving a woman I love. She doesn't suspect a thing. As lies compound, lines are crossed and loyalties tested, all I can ask myself is. . .what have I done?
Because sooner or later something's got to give. There's no way I'm giving up Isobel. But once the truth is exposed, it might not be my choice at all.
I received this book for free from in exchange for an honest review. This does not affect my opinion of the book or the content of my review.
REVIEW
I don't even know where to begin with this review. I mean, Stealing Her was just EVERYTHING! I mean… just… everything. I totally went into this book thinking I would be entertained and probably enjoy it. I was looking forward to it because Rachel Van Dyken has mentioned several times that she dished out the angst and heart-ache with this one.
What I did not expect was to be absolutely and COMPLETELY BLOWN AWAY! I am still thinking about it the next day! This book without a doubt put me in an incredible book hangover… in the best way!
This book will absolutely be a top pick for the year! It made me feel everything in the way only a couple of books a year can make me feel! The angst, the slow burn, the heart-ache… gah!! I loved it all!!!
Let me tell you, Stealing Her had my heart being pulled in so many different directions! We start the book meeting Julian with Isobel… but then we meet Bridge and we're with him as he gets to know Isobel and they develop their relationship.
Seriously! I was all over the place and I loved every second of it! I need Finding Him like yesterday!!