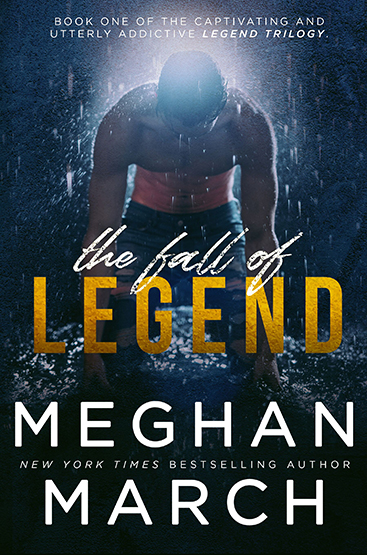 The Fall of Legend
by Meghan March
Series:
Legend Trilogy #1
November 12, 2019
Amazon
| 
Kobo
| 
iTunes
| 
B&N

We come from two different worlds.
I'm from the streets. She might as well live in an ivory tower.
I made my living with my fists. I doubt she could even throw a punch.
Our paths never should have crossed.
We never should have met.
That doesn't change the facts.
I would sell my soul to taste those red lips.
Fight the devil himself to hear her laugh.
Burn in hell to have a single night.
Scarlett Priest shouldn't even know men like me exist, but sometimes temptation is stronger than will.
If this is how I go down, it'll be worth every second of the fall.
I received this book for free from in exchange for an honest review. This does not affect my opinion of the book or the content of my review.
REVIEW
I need more. I need more more more!!
I have no shame in admitting I am hopelessly addicted to Gabriel Legend, and sitting here on the edge of my seat waiting for the next book may very well kill me!
This story started off with a heart stopper that's for sure! I did not know how on earth Meghan could get these characters together after the way they started, but lord oh mighty she did!
What I love most about these characters is that they are both about survival. Which is what I love about a lot of Meghan's characters. But I have to tell you that there is something special about Gabriel and Scarlett.
We don't get to spend a whole lot of time with Gabriel and Scarlett together in this first book. The Fall of Legend is more about learning who these characters are and what drives them, which I think is important. I also think it's Meghan's way is slowly killing us with the anticipation. Slow burn doesn't even begin to describe the sweet torture.
I'll just be over here (not so) patiently waiting for House of Scarlett on pins and needles. Because if I thought the beginning was a heart stopper – the ending was a heart wrenching cliffhanger!