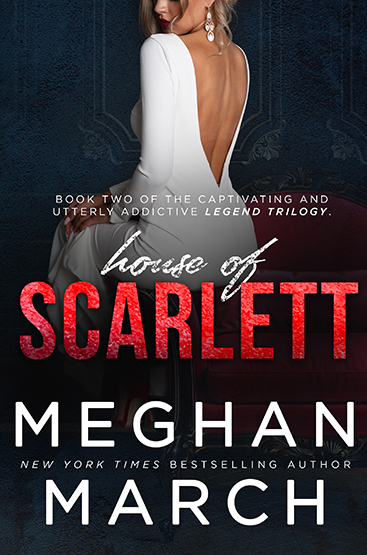 House of Scarlett
by Meghan March
Series:
Legend Trilogy #2
December 10, 2019
Amazon
| 
Kobo
| 
iTunes
| 
B&N

Gabriel Legend is unlike any other man I've ever met.
He came into my life like a hurricane, shattering all my assumptions and preconceived notions.
I wasn't prepared for him. I wasn't prepared for any of it.
But life doesn't wait until you're ready.
Whatever happens next, I know one thing for certain.
I will never be the same Scarlett I was before I met him.
House of Scarlett is the second book in the Legend Trilogy and should be read after The Fall of Legend, book one in the utterly addictive Legend Trilogy.
I received this book for free from in exchange for an honest review. This does not affect my opinion of the book or the content of my review.
REVIEW
I hope I can convey how invested I am in this series, as well as how obsessed I have become with Legend and Scarlett. Reading this series one book at a time rather then binge reading the whole story in one go is slowly killing me. In the best way!
Fair warning: Do not go any further in this review if you have not read book one, The Legend of the Fall, as there might be some spoilers from the first book.
Now in The Fall of Legend we got to meet Legend and Scarlett, and Meghan March spent a lot of time developing these characters for us in book one. We didn't really get a chance to see how these characters were together or as a couple. Meghan worked us up with the slow sweet burn and anticipation of them coming together – and she did not let us down!
Now in House of Scarlett we get to spend a lot time with them together and getting to know them as a couple. We get to see their connection that started from the first chapter in the first book grow into something.
Scarlett is still by far one of my favorite heroines EVER! I totally want to live in fantasyland and pretend she and I are the best of friends. The loyal, independent, determined and just everything you could ask for!
Legend. I know even know what to say about Legend. We learned about his past in The Fall of Legend but we learn so much more about him in House of Scarlett. His past, how protective he is, and how loyal he is as well.
Have I mentioned I LOVE these characters?!
I will warn you that once again, Meghan leaves us with a HUGE cliffhanger. So I'll just be over here waiting for The Fight For Forever… 😀