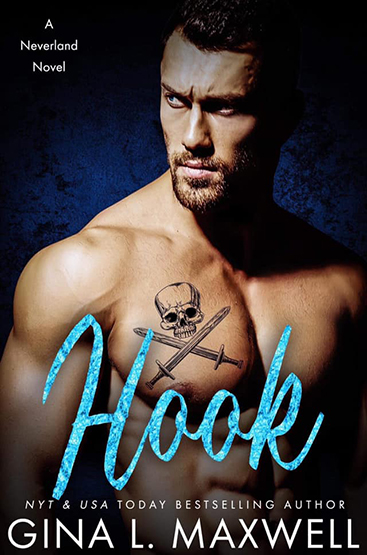 Hook
by Gina Maxwell
Series:
Neverland #2
January 22, 2019
Amazon

THEY CALL ME HOOK
I'm Captain of the Pirates; a villain by design and a loner by nature.
I don't need anyone. More than that, I don't want anyone. Especially Officer John Darling who insists on seeing the good in everything, including me. If there was ever any good inside of me, it was snuffed out long ago.
I've avoided him for years, but now I need his help to save my brother's life and take down Fred Croc, the monster from my childhood and my current employer.
Now Darling is undercover in my crew, living in my loft and forever working out shirtless. Taking Croc's operation down from the inside is dangerous as hell, but Darling's probing gaze and the natural way he defers to my dominant side might just be the end of me.
But I've lived in the dark for too long, and no amount of light can save me. Not even one as bright as Johnathan Darling.
HE CALLS ME DARLING
I'm a Task Force Officer with the FBI; a protector of the innocent and a man in love with a villain.
Before I was even old enough to understand it, I had a crush on the broody teen called Captain Hook, following him around like a puppy and hoping he'd show me the slightest bit of attention.
He never did, though, not for years. Not until I became his only viable option for getting his crew member back and throwing Croc behind bars. Now he can't ignore me, and he can't hide the desire burning in his eyes when I sink to my knees, eager to serve my Captain however he needs.
But secrets are hard to keep in close quarters, and when I discover the darkness lurking in his past, eradicating the evil in Neverland is no longer my only mission. Come hell or high water, I'll make Hook see that he's never been the villain of this story…he's the hero.
I received this book for free from in exchange for an honest review. This does not affect my opinion of the book or the content of my review.
REVIEW
I have to start off by review by that stating M/M is not my thing. Do not get me wrong, I have absolutely nothing against that genre of romance but those stories are generally just not for me. Just like love triangles are not my thing. I just normally can not get into them. And let me tell you – I've tried.
That being said – I was so excited over Gina Maxwell's Neverland series and LOVED Pan because it was EVERYTHING! However, after reading Pan and learning Hook's story would be an M/M romance I was a little worried. I was determined that I was going to give it a try because I loved Pan so much and love Gina's writing. There was also something about Hook that just captured me in Pan and Wendy's story. I couldn't get him out of my head.
Well, Gina Maxwell didn't necessarily pop my M/M cherry but I could not have been happier with the story. And honestly, I don't see how Hook's story would have worked any other way.
I put my full faith in Gina with reading Hook's story and she did not let me down! The story still kept me captivated to where it was really hard for me to put the book down.
We get a lot of closure from a lot of things that we learn about in Pan, as well as go on Hook and John's journey to finally being able to be with one another. Gina really wrote their story in such a beautiful and poetic way that I was literally crying on my kindle.
I have a feeling Gina is going to test even more of my limits with the books to come in this series and I honestly can't wait!