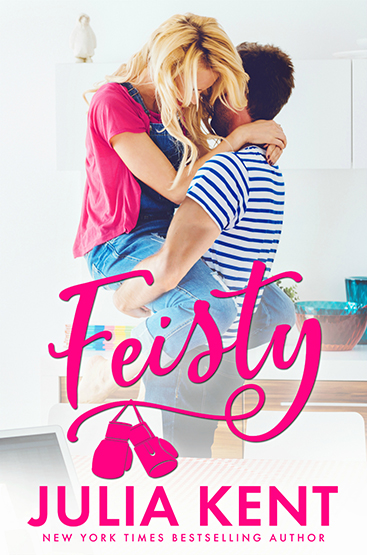 Feisty
by Julia Kent
Series:
Do-Over #3
January 28, 2020
Amazon
| 
Kobo
| 
iTunes
| 
B&N
| 
Audible

I'm not too proud to admit that finding Mr. Right involves swiping right. Right? Welcome to dating in avocado toastland.
Here I am, on my first blind date, ever, courtesy of a smartphone app and my two annoying best friends.
So what is Chris "Fletch" Fletcher doing, walking across the room, looking at his phone like he's pattern matching a picture to find a real person he's never met before?
Oh.
Oh, no.
The guy I drop-kicked in seventh grade cannot be my blind date. The guy who earned me this infernal nickname.
That's right.
Feisty.
—
More from New York Times bestselling author Julia Kent as Fiona "Feisty" Gaskill gets her chance at love - drop-kick included.
I received this book for free from in exchange for an honest review. This does not affect my opinion of the book or the content of my review.
REVIEW
After reading the previous books in the Do-Over series, Fluffy and Perky, I could not wait do dive into Fiona (Feisty) and Chris' (Fletch) story! I highly recommend, even though these say they can be read as stand-alones, reading the previous books before reading Feisty. You will miss out on a TON of character development and… some fantastic stories!
What I love about this series is how much fun these stories are. I would catch myself laughing out loud ALL THE TIME while reading. Especially while reading Feisty!
Even though the story starts off with something rather horrific happening, the story itself has a lot of fun and laughter. While there are serious elements, Julia Kent is able to turn it something enjoyable to lose yourself in.
EXCERPT
"Fletch," I start, walking into my office, waving him on. As we pass by the children, they snicker and whisper, the girls more stirred up than the boys. We reach the office, I close the door, and ask, "Why are you here?"
"I came to see you because I knew this was your lunch break and you've been ignoring my texts and calls."
"Maybe I need some space."
"I respect that."
"Clearly, you don't."
"Look, Fiona, I'm not here to argue with you. Or to crowd you or upset you. The opposite, actually. I realized our wires have been crossed and it was better to just come to you, face to face, and say what needs to be said."
"You couldn't wait until I wasn't working?"
"If you'd answer my texts and calls, I could."
"Fair enough. What do you want to say? What needs to be said?"
"I would like to ask you out on a date."
"A date?"
"Yes."
"Why?"
"Because I like you."
"That's it?"
"Isn't that enough?"
"After seventeen years of teasing me, of that stupid nickname following me around like a poltergeist, now you suddenly decide that because I saved your nephew you want to date me?"
"It's not like that."
"Then what is it like?"
"I don't know. Let me find out what it's like by spending time with you. Let's both find out what the other is really like. Do we have to define this? Let's explore it." He grins. "Let's explore each other."
"I think you're trauma bonding with me and getting that confused with having feelings for me."
"Trauma bonding?"
"We went through something emotionally intense together. You helped me. I saved your nephew. But that doesn't mean we should date."
"That's not why I'm asking you out."
"Is it because we kissed?"
"That's not why, but it certainly adds to all the reasons why."