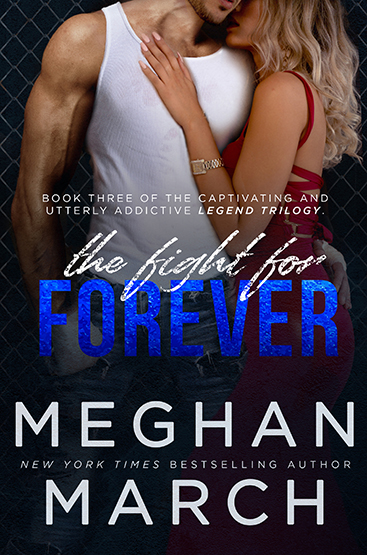 The Fight for Forever
by Meghan March
Series:
Legend Trilogy #3
January 14, 2020
Amazon
| 
Kobo
| 
iTunes
| 
B&N

You can only keep what you can protect.
That's all I've ever known. It's the way I've lived my life.
Now, everything I never knew I needed is at risk, and I'm not letting anyone take it from me.
I won't let anyone take her from me.
They say love is a battlefield, so I'm ready for war.
This time, it's the fight for forever.
The Fight for Forever is the third book in the Legend Trilogy and should be read after The Fall of Legend and House of Scarlett.
I received this book for free from in exchange for an honest review. This does not affect my opinion of the book or the content of my review.
REVIEW
Wowza. That was some doozy of a cliffhanger Meghan March left us with at the end of House of Scarlett, wasn't it? I don't know about you, but it felt like I was holding my breath the whole time while I waited to get my hands on The Fight For Forever. If you were like me and completely and totally engrossed in the story the wait for each installment was rather painful, if I do say so myself.
But oh did Meghan make it worth it! To finally have the conclusion for these characters in my hands was nothing short of making me want to do cartwheels!
Gab and Scarlett were magic right from the start. I really have to give props on how Meghan paced these installments. In The Fall of Legend we got to meet these characters and really got to know them. Most of Fall of the Legend was character development and Meghan absolutely nailed it!
Then in House of Scarlett we got to learn how they could be as a couple, get even more burned by their of the chart chemistry, and got to be captured in their getting to know one another and how learning how they'll fit into each other's lives.
Finally in The Fight For Forever, they do exactly what that title says. We get to be with them as they fight for this new and developing relationship with each other. They get to learn how to protect each other as well as be there for each other.
It was a rollercoaster of a ride… but it was one I didn't want to get off of!