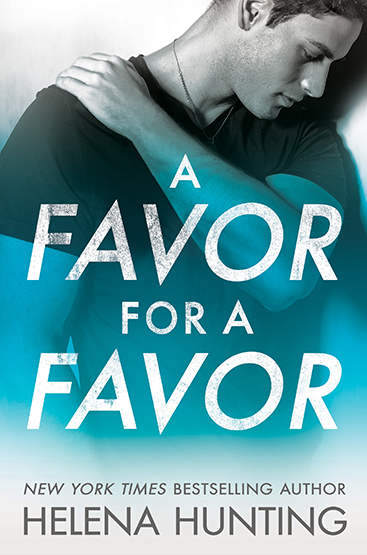 A Favor For A Favor
by Helena Hunting
Series:
All In #2
January 28, 2020
Amazon

When I joined Seattle's NHL expansion team, I thought it was the start of something great. But nothing ever goes the way you expect. Take my introduction to my new neighbor. She came rolling in on the hot mess express at midnight, making a racket while she tried to get into my team captain's apartment. Did I mention that he's married to a woman who definitely was not her?
Imagine my surprise when I end up with an injury that has me out of the game for weeks, and she's the one to offer to help me. I should probably add that she's not the captain's mistress. She's his sexy, pastel-haired younger sister.
So we come up with an arrangement: she rehabs me so that I can get back on the ice sooner, and she can add a professional athlete that isn't her brother to her client list. Seems simple enough. As long as I can keep my hands to myself and my hormones in check.
I received this book for free from in exchange for an honest review. This does not affect my opinion of the book or the content of my review.
REVIEW
Ya'll. If you are looking for a hilarious (and a lot of times ridiculous) hockey romance, you need to look no further than Helena Hunting. Seriously, she is the Queen of Hockey Romance! When I found out she has a spin-off of the
Pucked
series, I did not waste one minute moving the mouse over to that one click button. And I have no regrets!
Honestly, you don't even need to have read the Pucked series to fall in love with A Favor for a Favor. You don't have to have even read the first book in the All In series, A Lie for a Lie. I am super careful when telling people that they can read a book as a stand-alone when it is part of the series, but I am firm in saying A Favor for a Favor can be read by itself.
Stevie and Bishop were absolutely enjoyable to spend my time with. They had such a fun story and let me just throw this out there – underwear wars. Yes. Underwear wars.
The story starts off after Bishop has just joined the NHL's new expansion team in Seattle, and Stevie moving to Seattle only to find her boyfriend cheating on her. Enter a whole bunch of misunderstandings and an overprotective older brother and you have a recipe for some laugh-out-loud moments with a heart-warming story.