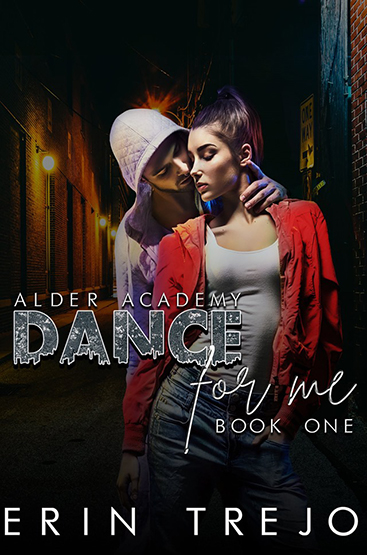 Dance For Me
by Erin Trejo
Series:
Alder Academy #1
March 14, 2020
Amazon

A Dark College/Bully Romance

I was the girl no one wanted.

Dumped and left to fend for myself.
Dance became my lifeline, my sanity.
Now I have a new life.
A new twisted family and a school that has me asking questions. Alder Academy isn't your typical college.
It's run by the founding family of Rolling Springs.
And soon, I will learn all their dirty little secrets in the form of the three Alder brothers.
Or so I thought.
Now they are uncovering my past.
And all of our lives are torn apart.

EXCERPT
"What the hell are you doing in here?" One hand stays wrapped around her throat, the other I shove down the front of her pants. She's wet already which doesn't surprise me.
"Helping with the paper," she says softly.
"Are you? Or you checking the guys out?" Yeah, there may be a bit of jealousy there. I claimed her ass, I was inside of her and now she's mine whether she likes it or not. No one will be touching her but me. Whisper reaches for my hand, jerking it from her jeans and pushing it away.
"I believe I'm free to do what I want, Steele."
"Is that what you think?" I lean in closer, closing the space between us as I squeeze her throat a little harder.
"I don't need to think. I know. You don't own me," she says gritting her teeth. I love watching her like this. That fire, that burn.
"You don't think so? Who was inside of you today? Whose cock was filling you, Whisper?" She grins a dark grin at me.
"Do you think you're the only cock that's been inside of me? Don't flatter yourself, Alder." Slapping my hand away from her throat, she storms from the back room and out into the front. I follow her out, licking my fingers as her gaze finds mine. She's pissed. Just the way I like her.
"What the hell was that?" Knox asks when I take my spot next to him.
"Just having a little fun." He chuckles before we go back to listening to Ray talk.