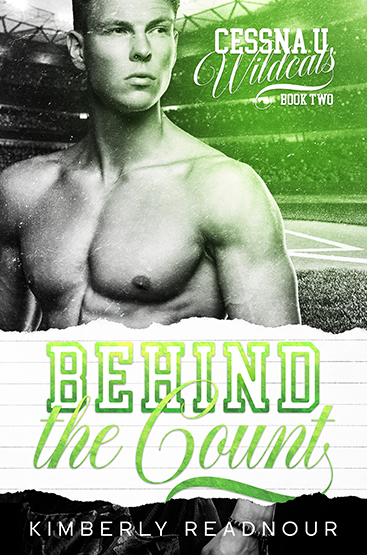 Behind the Count
by Kimberly Readnour
Series:
Cessna U Wildcats #2
April 30, 2020
Amazon

Dating my brother's best friend? Yeah, that's forbidden…
Noah Geren.Cessna University's starting catcher.Sensible. My life-long crush. And totally off-limits.
I only want a few things in life. Graduate with a fashion degree. To be taken seriously. And Noah Geren.
After my first year of college, I let the idea of him go. And it almost worked
Until that late summer night.
Shannon Smith. My best friend's sister. The secret star of my late-night fantasies. Hotter than sin. Unattainable
There's a code among best friends and teammates—no dating their sisters.Too bad I didn't listen.
One weak moment changed everything. And nothing at all.
I'm not good for her.
They call me the sensible one, But the more Shannon and I are forced to be together, Staying away makes less sense,And the reasons become hard to remember.But I need to stay strong.For reasons she'll never understand.
EXCERPT
The front doorbell rings, ending any further primping. I trample down the stairs, surprised Noah walked instead of driving. The distance isn't far, considering he lives next door, but this rain is relentless. I open the door with every intent to ask, but the question dies on my tongue the moment he comes in to view.
His cropped hair is soaked, making the normally light brown hue a shade darker. His arm rests against the door frame while the wet fabric clings to his broad chest, defining every delicious cut muscle. The low-slung jeans reveal just enough skin as water droplets skate down his happy trail. I can barely breathe. I'm so busy checking him out I don't notice the door frame acting as his support until he stumbles.
"Are you okay?" I attempt to break his fall, but he straightens himself before I reach him.
"I'm fine." He plays it off by keeping his tone light, but the slight slur to his speech is unmistakable. Noah's drunk, which is surprising, considering he never drinks. "I'm more concerned about you. The storm's nasty."
Those deep-green eyes trap me in place, the small scar above his left eye a constant reminder of how many years I've wanted to tell him how much I want him. How I longed for the day he'd see me for more than his friend's little sister. I thought this crush would fizzle over time, but each moment we spend together only serves to fuel my want. The only thing keeping my secret safe is the fear of being humiliated and rejected. There's one thing I know for sure; Noah Geren is clueless when it comes to my feelings about him.
He runs his fingertips down the side of my face. "You don't need to be scared."
My heart hammers in my chest but from a different reason other than the storm. Are my thoughts so easily readable? No, don't be stupid. He's only concerned because of the storm.
"You shouldn't have walked over in the rain." I push the door back farther to let him inside.
"'Tis 'kay. I had to check on you."
"I appreciate that, but you're soaking wet." I place my arms around his waist and shiver from his wetness pressed against me. Or maybe, it's from being tucked against his hard frame. It's difficult to tell. "Take your shoes off. Mom will kill me if you track water on the floor."
Once he complies, I lead him toward the living room, but we stop at the edge of the room. My gaze lands on the white cloth-covered furniture. Yeah, that's not going to work. I need to get him changed into some dry clothes. Otherwise, there won't be anywhere for him to sit.
"Let's go upstairs."
He whips his head toward me. "That's not a good idea."
"What? Why?" I guide his body toward the stairs.
"You don't know."
"Know what?" Truthfully, I want to laugh because I've never seen Noah drunk. He's the designated driver. He's meticulous about what he puts in his body. Food being fuel and having to put the correct fuel in or whatever reasoning he uses.
"What?" I prompt again.
"That I like you."
My heart stutters as my mind tries to put more meaning behind his words. I know he likes me, but what I want is so much more than being Braxton's kid sister.
"Yeah, I like you too." Just more than you'll ever know.
He stops walking and turns to face me. His mouth opens, and for a hopeful moment, I think he's about to confess some suppressed undying love, but nothing comes out. My body deflates. Even in his drunken state, he can't admit he likes me as more than just a friend, which serves to reconfirm the fact friendship is all that will ever be between us.
"Come on, we need to get you some dry clothes."
Coming Soon

July 9, 2020