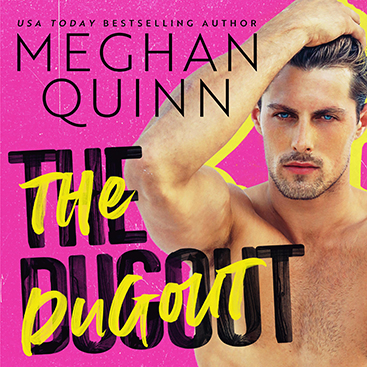 The Dugout
by Meghan Quinn
Narrator:
Samantha Peachwood, Sebastian York
May 01, 2020
Amazon
| 
Audible

Let me ask you a question:
If someone is vying for your spot on a team and just so happens to injure you during practice, would you believe it was on purpose?
Word around campus is . . . it was no accident.
That injury has cost me everything; my starting position, my junior year—and the draft. Now, I'm a senior fresh off recovery, struggling to find my groove, until the day I run into a nervous, fidgety, girl with freckles, in the dining hall.
They call Milly Potter The Baseball Whisperer, The Diamond Wizard, and The Epitome of All Knowledge. She believes in baseball. She breathes it. She's the queen of an infamous dynasty, but no one actually knows who she really is, and she plans to keep it that way.
One mishap in the panini line, one miscommunication in the weight room, and many failed attempts at an apology equal up to one solid truth -- Milly Potter never wants to speak to me again -- no matter how good my forearms look.
Little do we both know, she's about to become more than just my fairy ballmother.
I received this book for free from in exchange for an honest review. This does not affect my opinion of the book or the content of my review.
REVIEW
Y'all. I was not prepared for
The Dugout
. I went into this book looking for a cute romantic comedy… boy was I in for a rude awakening. I had listened to the first book,
The Locker Room
, before diving into
The Dugout
and I still WAS NOT prepared! Take the emotional level of
The Locker Room
and quadruple it!
Yes, there is romance and there is a lot of comedy. Do not worry, if you were like me and looking for some romcom fun – this book is HI-LAR-I-OUS!! I woke my husband up several times laughing so hard I had tears coming out of my eyes.
Milly is so awkward and ridiculous that you cannot help but love her. And the way Carson is with her is so super swoony I did not know what to do with myself. He appreciates her awkwardness and does everything to make her feel uplifted rather than defeated. Did I mention how swoony Carson is?!?
However, even with all the outrageously amusing scenes in the book (and there are a lot), I am warning you… THIS BOOK IS GOING RIP YOUR HEART OUT! Your heart will be mended of course… BUT IT WILL BE TORN TO SHREDS FIRST!!!
I was not prepared you guys. Not prepared at all. Meghan Quinn threw is all into the book and did not hold back.
These narrators were ON POINT. But I mean, when is Sebastian York ever not on point? I believe Samantha Peachwood is new to me, but she does sound familiar. Either way, she nailed Milly's character and had me both laughing and crying.