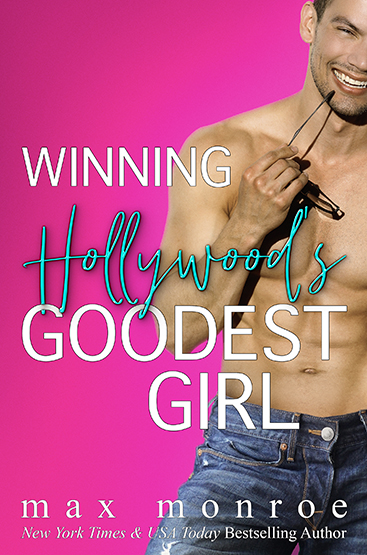 Winning Hollywood's Goodest Girl
by Max Monroe
June 11, 2020
Amazon


Raquel and Harrison sitting in a tree, K-I-S-S-I-N-G.First comes love.Then comes marriage.Then comes a baby in the baby carriage.

That's how her brother used to sing it when we were kids—a simple ploy to get under my skin and make me stick my fist in his face—but man oh man, did he get the order wrong.
One night of "kissing" in New York catapulted us straight to the pregnancy portion of the song—surprise!—and now I have to figure out how to carry out the whole melody in reverse.
A baby on the way first.Then love and marriage?It's complicated on its best day.
But our situation is far more problematic than just a simple twist of nursery rhyme lyrics. Before our night together, Raquel Weaver was the best-known good girl in Hollywood—a twenty-nine-year-old sexpot virgin whom the world adored and watched like a hawk.
Obviously, the consequences of that kind of reputation don't just go away. Add in pregnancy hormones, the media, a fake fiancé, and a selfish manager, and you have the short list of my problems.
As a thirty-four-year-old, successful CFO of a multibillion-dollar media conglomerate, I thought I would be able to handle anything show business could throw my way, but I'm starting to think I might be in over my head.
Good thing I'm all in.Winning Hollywood's goodest girl is going to take everything I've got.
I received this book for free from in exchange for an honest review. This does not affect my opinion of the book or the content of my review.
REVIEW
I need to start this review off by letting you know that had it not been for Max Monroe that my poor sanity (or what little bit is left of it) would not have made it this far into the pandemic. I had read
Tapping The Billionaire
many moons ago when it was released but for some reason (you know… life) I did not continue reading after that.
When the pandemic hit, I knew the best outlet would be for me to be reading. However, reading anything heavy was out of the question. Remembering how much fun I had reading Tapping The Billionaire, I started to binge Max Monroe's catalog.
Y'all. These books literally saved my life. I honestly do not know how I would have made it this far without Max Monroe's catalog to get me through the beginning of this dumpster fire we are all in. So obviously when I saw they would be releasing a new book, Winning Hollywood's Goodest Girl, I jumped all over it immediately.
Max Monroe did an amazing job with Harrison and Raquel's story! Now, if you have not read Max Monroe's previous books – not to worry – this book can TOTALLY be read as a standalone. Now are you missing out by not reading the previous books? 10,000%!! But you will not be completely lost if you have not.
Harrison is just about everything you want in a hero. He is absolutely one of Max Monroe's swooniest heroes to date. He's kind, considerate, strong and if we are to go by Raquel's description – very umm.. equipped. ???? He seriously stops at nothing to win Raquel over and make sure they are forming a team together.
Speaking of "teams".. It was very hard to relate to Raquel because she is so use to everyone looking out for their best interest rather than her own that she really does not know how to handle Harrison for the most part. Her Hollywood "team" does everything for the image of Raquel rather then for the person Raquel. It's very hard for her to suddenly put herself first and be accepting of Harrison's intentions of making her a priority.
Overall this book was amazing but I have come to expect nothing less from Max Monroe.