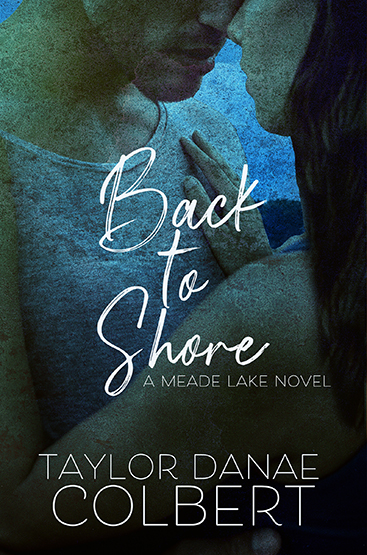 Back to Shore
by Taylor Danae Colbert
Series:
Meade Lake #1
August 11, 2020
Amazon
| 
Kobo
| 
iTunes
| 
B&N

When I was sixteen, I was madly in love with Ryder Casey.
He was kind, he was loving, he was everything.
Then he killed my twin brother, the night before our seventeenth birthday.
Accident or not, he crushed me in more ways than one. So I turned him away and never looked back. I haven't forgotten. And I certainly haven't forgiven.
Now, I'm sort of a hot mess. I'm in between jobs, essentially homeless, and newly divorced.
But as I try to put the pieces of my life back together, I know that Ryder's the one that's missing. I have to find him, and I have to forgive him.
And when I do, I learn that he's not exactly living the easiest life. He needs someone. He needs me.
Despite everything, I know I should be there for him. But doing that means I'll have to put our past behind us.
And I'll have to try my hardest not to fall back in love with the man who broke my heart beyond repair.
I received this book for free from in exchange for an honest review. This does not affect my opinion of the book or the content of my review.
REVIEW
Taylor Danae Colbert is a new-to-me author so I had no idea what I would be getting myself into when I dove into
Back to Shore
. I will tell you, this was a gut-wrenching, pull on all your emotions rollercoaster of a story.
Back to Shore
is a second chance romance for our main characters Ryder and Mila. After a horrible tragedy when they were teenagers Mila left only to return 12 years later to try and find some peace. The author takes us back and forth between present and when they were together as teenagers. I'll be honest and make note that I feel like it was a little rushed. I felt like this story could have been so much more. It easily could have been a duet.
All of that being said, I could not put the book down. I'll be honest enough to even tattle on myself and admit that at around 60% I flipped to the last page to make sure I could handle the ending. I NEVER DO THAT but I was starting to get really emotionally invested in these characters and I just had to make sure.
This was the first book of this series and I will be looking forward to continue reading about these characters in Meade Lake.