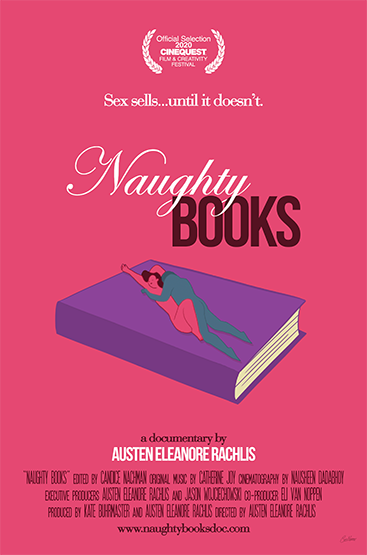 No one was prepared for the success of Fifty Shades of Grey. Originally written in 2010 as a piece of Twilight fan fiction and posted online, it eventually sold over 100 million copies, taking erotica mainstream. But women didn't only read erotica in large numbers; they also wrote it. In the aftermath of Fifty Shades a cottage industry emerged around self-published romance novels. Once women who worked forty-hour-a-week jobs, living paycheck-to-paycheck, many of them are now New York Times bestselling authors with their own merchandise lines and die-hard fans. Naughty Books follows three such women: an Air Force vet, a telemarketer, and a hospital administrator who became millionaires in under a year by using pen names to sell erotica online. They garnered thousands of fans and secured lucrative book deals with major publishing houses by writing about good girls and bad boys finding love and having steamy sex. However, as more and more people saw writing erotic romance as a quick path to money and fame, the market became saturated with hundreds of romance novels published every month, making success difficult to maintain…
Come into the world of erotic romance and meet the authors who made millions by transforming their fantasies into fiction.
NAUGHTY BOOKS: A Documentary directed by Austen Eleanore Rachlis and starring Kelli Maine, Laurelin Paige, Kristen Proby, CJ Roberts, Aimee Garcia, Allison Tolman and Aisha Tyler is available now!
REVIEW
I love absolutely everything about this documentary!
I have been a devoted reader to most of the authors featured in this documentary since they began their careers. Being able to see them in this new light was very interesting and eye opening. These ladies are very much rock stars to readers like myself, so being able to see them get personal (and even vulnerable) in this documentary was nice to see. I enjoyed the scenes in their homes, on their release days and at book events. Being able to see the journey they took was gratifying because a part of me feels like I took that journey with them.
I remember stalking these authors on social media and downloading these books on their release day. I remember going to some of these book events and getting to meet them for the first time, so it brought back a lot of memories for me. Seeing people I consider my friends get featured was really amazing.
The other really amazing aspect of this documentary is to see where these authors are now, and how far some of them have come in their careers. It's also interesting how a couple of them haven't released (or have only released a few books) anything since their "big break". One author in particular was a little disappointing to watch because of the way she expressed her discomfort and not liking the genre. I had actually read some of her books, and know she was one of the authors who put together one of the first big book conventions (that's for the genre).. so yeah, that was disappointing to see.
Overall, it was so rewarding to me to watch and I hope anyone not already involved in their genre will learn and want to check out these amazing authors and books!