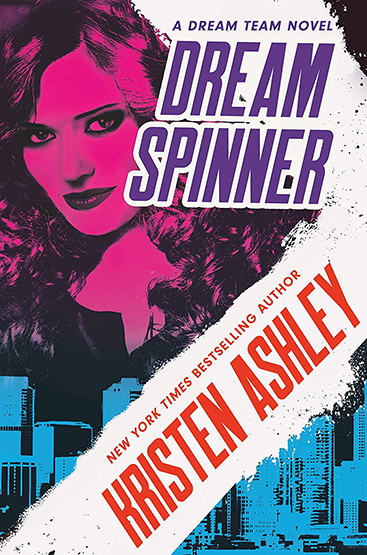 Dream Spinner
by Kristen Ashley
Series:
Dream Team #3
May 25, 2021
Amazon
| 
Kobo
| 
iTunes
| 
B&N

In this steamy and emotional contemporary romance from a New York Times bestselling author, two damaged souls must overcome the pain of their pasts to have the love they've always dreamed of.
Hattie Yates has finally met the man of her dreams. Yet years of abuse from her demanding father have left her petrified of disappointment. She's already failed to reach her goal of becoming a professional ballerina—she can't handle the terrible consequences of another dream becoming a nightmare. But when a stalker sets their sights on Hattie, there's only one man she dares to hope can help . . .
Axl Pantera knows Hattie is the only woman for him. Yet despite the attraction burning between them, Hattie refuses to let him in. The former soldier is determined to woo her into letting down her walls. And when danger comes calling, he's up against more than her wary and bruised heart. Axl will do anything to prove to Hattie that they're meant to be, but first, he'll need to keep her safe.
I received this book for free from in exchange for an honest review. This does not affect my opinion of the book or the content of my review.
REVIEW
I really can't put into words my love for Kristen Ashley and her books. They have been with me through some good times and have truly been with me through some of the of the hardest times in my life. Kristen Ashley has a way with telling stories that completely takes you in and does not let you go even after you have finished reading the words. They just stay and sit with you.
Dream Spinner is no different. I have fallen in love with yet another series of Kristen Ashley, which is not surprising. As Dream Spinner is the third book in the Dream Team Series, I would strongly suggest reading the previous books in series so you get the full aspect of all of these amazing characters and get to know them. This is also a spin-off series from the Rock Chick Series and Dream Man Series, so you have been living under a rock and have not read those books, I would suggest reading those as well.
Dream Spinner is Haddie and Axl's story and while I thought I was prepared to have these characters rip my heart out, I truly wasn't. It takes a lot to get the water works going for me, but let me tell you Haddie was able to pull a few out of me. Their story was was amazing and heartbreaking all at the same time. Kristen Ashley really knows how to pull your heart out and then put it all back together. Haddie had my heart with her shy insecurity from the beginning of the series and I just couldn't wait to dive into her and Axl's story, and IT DID NOT DISAPPOINT.
One of my favorite things that Kristen Ashley does every now and then is incorporate a song into the story that makes it so you'll never hear that song again without thinking about that Kristen Ashley book. Anya Marina's "Shut Up" has now become a song I will never be able to listen to without immediately picturing Haddie and Axl.
I also have to warn you that you will also fall in love with the side characters as well. There is also a chance you will fall for one of the bad guys and not even be mad about it. I am coming out of my skin waiting for the last book, Dream Keeper, so I can see where Kristen Ashley takes this character and a part of me almost hopes he gets his own story because he has slowly become a very loveable character that you will find yourself rooting for.
EXCERPT
"Yo, Axe," Hawk greeted.
"You got a minute?"
In answer, Hawk tipped his head to the chair opposite his desk and tossed his phone on the top of it.
Since Hawk rarely sat, the men who visited him didn't either.
But for this, Axl closed the door behind him after he entered, moved to a chair, and put his ass in it.
Hawk watched this, and he hesitated, but then he joined him, sitting behind his desk.
"Is everything cool?" Hawk asked.
"I got a sitch. Personal. And I was hoping you might talk it through with me. Maybe have some insight."
"Hit me," Hawk invited.
And there was one of the bennies of working for Cabe "Hawk" Delgado.
He was a good boss, generous with his knowledge, gave credit where it was due, didn't get in your face if you fucked up and held up your hand that you did…
And he had time for you even when he didn't.
"I met Hattie's dad last night."
Hawk's lips thinned.
Right.
His boss might not be in on their chats, but not much happened with his crew that Hawk didn't know about.
So he knew about Don Yates.
"I got blindsided," Axl told him.
"How?" Hawk asked.
"He loves her, Hawk."
Hawk held his gaze a beat before he sat back in his chair.
Yeah.
This was going to be a conversation.
Hawk's voice was lower when he inquired, "He loves her, and he hits her?"
Axl shook his head. "I got no excuse for that. Or the verbal abuse he keeps doling out. What I know is, recently, he called her a whore."
"Jesus," Hawk clipped.
"She didn't tell me that. She told Ryn, Ryn told Boone. And I got it from Boone. But before…" He paused, then got to it, "I can't step in with her dad. She knows their relationship is dysfunctional. She feels beholden. I could only have her back. Until I heard that. Then I shared I was going to have to have words with her father."
"Good," Hawk murmured.
"Then I got there, and the man was practically beaming, he was so fuckin' happy Hattie brought her boyfriend over to meet him."
"Fuck," Hawk grunted.
"So we sat down. He gave me the 'What do you do for a living' and 'How'd you meet my daughter' gig. I answered. All was good. Then I told him I couldn't have him upsetting Hattie like he did by calling her a whore. He tried to explain it by saying he was in a bad mood. I told him, in future, if he was in a bad mood, he needed not to take that out on Hattie."
"On your first meeting," Hawk noted.
"On our first meeting," Axl confirmed.
"Which happened…what? How long have you been seeing her? A few days?"
"Yep."
"You laid down the law with your woman's father the first time you met him after you've been with her a few days," Hawk laid it out.
"Yep."
"Christ, Axe, you don't fuck around," Hawk muttered.