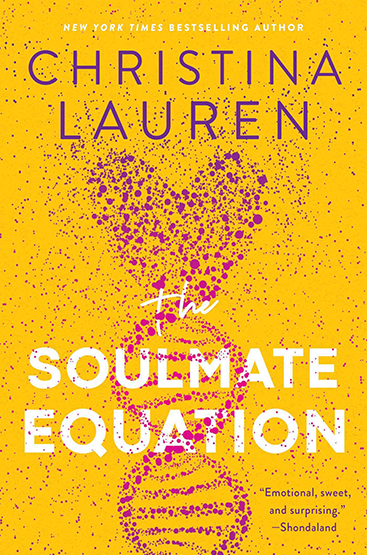 The Soulmate Equation
by Christina Lauren
May 18, 2021
Amazon
| 
Kobo
| 
iTunes
| 
B&N
| 
Audible
| 
BAM

Single mom Jess Davis is a data and statistics wizard, but no amount of number crunching can convince her to step back into the dating world. Raised by her grandparents--who now help raise her seven-year-old daughter, Juno--Jess has been left behind too often to feel comfortable letting anyone in. After all, her father's never been around, her hard-partying mother disappeared when she was six, and her ex decided he wasn't "father material" before Juno was even born. Jess holds her loved ones close, but working constantly to stay afloat is hard...and lonely.
But then Jess hears about GeneticAlly, a buzzy new DNA-based matchmaking company that's predicted to change dating forever. Finding a soulmate through DNA? The reliability of numbers: This Jess understands. At least she thought she did, until her test shows an unheard-of 98% compatibility with another subject in the database: GeneticAlly's founder, Dr. River Pena. This is one number she can't wrap her head around, because she already knows Dr. Pena. The stuck-up, stubborn man is without a doubt not her soulmate. But GeneticAlly has a proposition: Get to know him and we'll pay you. Jess--who is barely making ends meet--is in no position to turn it down, despite her skepticism about the project and her dislike for River. As the pair are dragged from one event to the next as the "Diamond" pairing that could make GeneticAlly a mint in stock prices, Jess begins to realize that there might be more to the scientist--and the science behind a soulmate--than she thought.
Funny, warm, and full of heart, The Soulmate Equation proves that the delicate balance between fate and choice can never be calculated.
I received this book for free from in exchange for an honest review. This does not affect my opinion of the book or the content of my review.
REVIEW
I don't even know where to start with this review, other than to tell you that if you have not picked up a copy of this book, The Soulmate Equation by Christina Lauren, you need to do so ASAP! You do not need to walk, you need to RUN AS FAST AS YOU CAN! IT IS SO GOOD!
Now I have always loved me some Christina Lauren, and have for a long time, but I have to say this was probably their best book yet. It very quickly became my absolute favorite of theirs.
The characters are just so completely relatable. Even with the characters having jobs that I personally would/could never aspire to (our Heroine, Jess, who studies statistics and our Hero, Dr. Pena, one who studies genetics…) I was still able to connect with them on such a really deep level that gave me ALL THE FEELS!
Now, how would you react if you found out you had a 98% compatibility (which has never happened before, this would be the highest compatibility to date) with someone who you did not get along with? Someone who so far has only proven to be a complete jerk. You'd probably be a bit cynical right? I know I would be.
You need to go grab The Soulmate Equation and see how Jess and Dr. Pena handles being forced together to see if they truly are a soulmate match. Throw in some loveable grandparents, a quirky best friend, and a plot twist that will make you break out the tissues and you have what I consider one of the top reads of 2021!