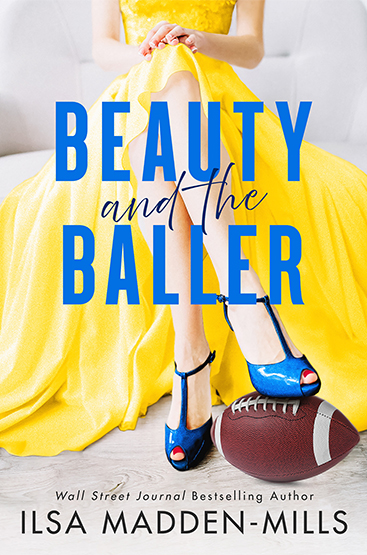 Beauty and the Baller
by Ilsa Madden-Mills
Series:
Stangers in Love #1
March 29, 2022
Amazon

An NFL quarterback turned small-town coach gets sacked by a Texas beauty queen in this swoony, passionate romance from Wall Street Journal bestselling author Ilsa Madden-Mills.
Gorgeous, talented, and brilliant, NFL quarterback Ronan Smith has the world in his hands. But after losing his career and his fiancée in a car accident, he falls into a pit of grief and bad choices. When a mysterious girl shows up to his party, he feels drawn to her and makes her his…for one night.
Former beauty queen Nova Morgan is on a mission. Scantily clad as a princess from a galaxy far, far away, she sneaks into a high-profile party to capture the attention of her favorite quarterback. But her hopes crash after an awful one-night stand.
Fast-forward two years. Broke and desperate, Nova returns home to Blue Belle, Texas, where, by a cosmic twist of fate, her broody neighbor is none other than Ronan, the shiny new football coach everyone adores. But he has no idea who she is.
The booster club keeps shoving women at Ronan to keep him in town. His solution? He proposes fake dating to Nova. But things heat up for real under these Friday-night lights when he realizes she's the one who slipped away.
Has this jaded beauty found her forever baller, or will his past keep them apart?
I received this book for free from in exchange for an honest review. This does not affect my opinion of the book or the content of my review.
REVIEW
Let me tell you.. if you are in a book slump (like I have been for a while now), Beauty and the Baller is absolutely the book that can get you out of it. Book slumps are no joke my friend. I have been STRUGGLING for months now. Have I read some good books?.. Sure. But nothing has grabbed my attention and kept me captivated like Ronan and Nova's story.
I was grabbed and pulled in right from the first page. The chemistry between these characters is off the charts. Not only was their story together amazing but their individual stories as well as the side characters made me just want more and more. I couldn't put it down!
Speaking of side characters – while Nova and Ronan had PLENTY deliciousness – the side characters add so much to the story as well that it wouldn't have been the same without them. Nova's sister, Ronan's football team, the other teaching staff… all these characters were written so expertly! I hope Ilsa Madden-Mills continues more books in Blue Belle, because any of these other characters could hold a book on their own.
Now back to Nova and Ronan – I could not get enough of them. Really, I couldn't. From their horrible and tragic pasts they both were moving forward from, to their ridiculously witty banter they had with one another, and really just how much they were just made for one another.
Ilsa Madden-Mills really outdid herself with this couple.