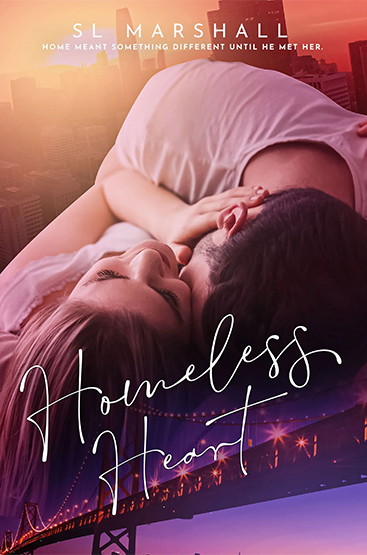 Homless Heart
by SL Marshall
May 18, 2022
Amazon

Phineas "Phin" Dunbar grew up in wealth and privilege in San Francisco. To the outside world, everything looks perfect, but behind closed doors, he lives with a painful family secret.
Phin leaves home without finishing high school. He decides that living on the streets until he inherits his multi-million-dollar trust fund is better than enduring the nightmare at home. Phin escapes to LA to save himself and faces the reality of life on the streets.
Elizabeth Baxter still remembers the day her best friend at high school disappeared, shattering her security and view of the world. On that terrible day, she promised she would give her life to helping others if only her friend would come home. She never did, but Lizzie's dedication to those who needed her was as fierce as ever.
Working to raise money for a homeless shelter, Lizzie meets Phin, a damaged and bitter young man. Offering her friendship helps him learn to trust again, but when their friendship turns into something more for both of them. Phin has to trust her with his past or risk losing her forever.
But Phin's past is more tragic than she could guess, and when the secrets of his past resurface, nothing is what it seems.
Home meant something different until he met her.
** Some brief violent content occurs - may be triggering to some individuals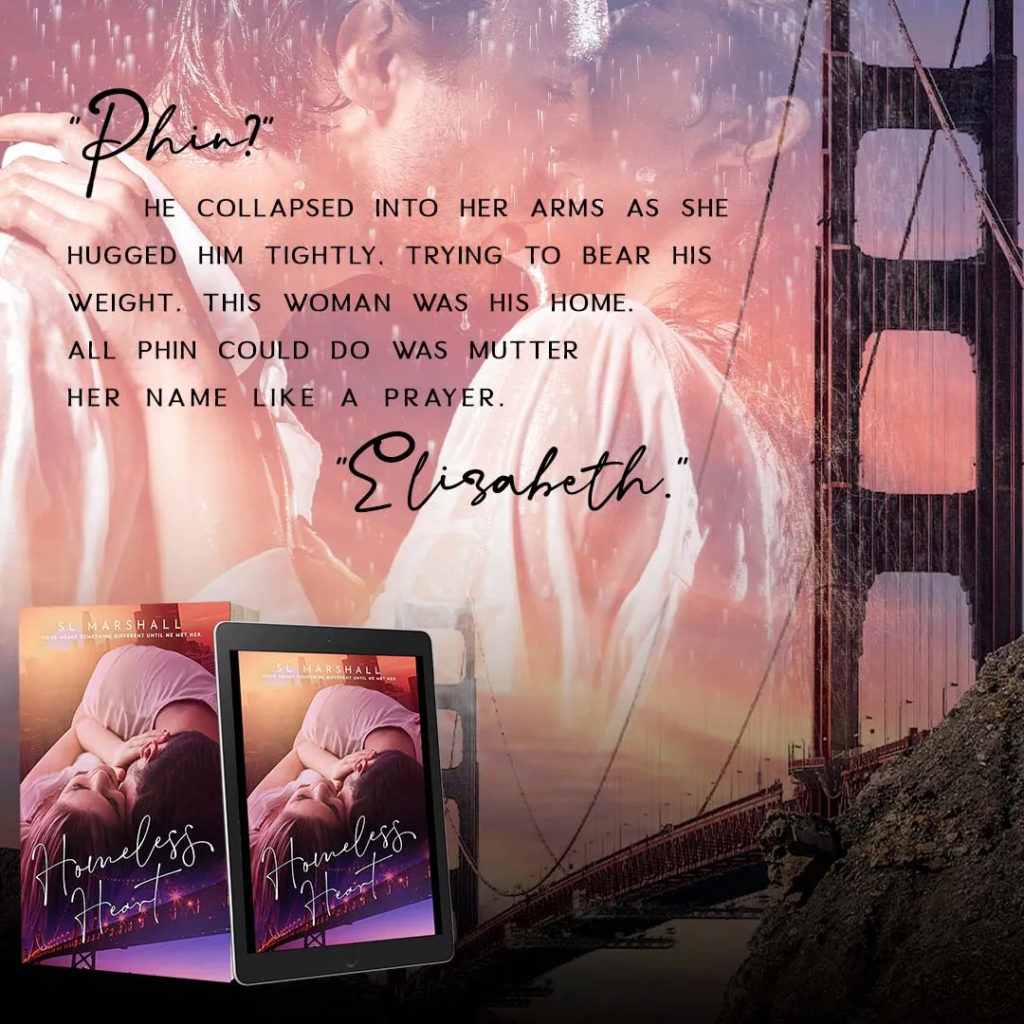 EXCERPT
Today I was sitting enjoying a cup of black coffee watching the people dashing in and out of my favorite café when the sound of swearing and a strawberry-blond whirlwind burst into my life. Luckily, today, I was feeling like a real human being, not an "invisible." I had a new shirt from the shelter, and it looked nice on me. My time on the streets and at Duke's had turned me into a clean freak about my appearance and my surroundings. Now on the streets, I was still obsessed with both keeping my appearance and cleaning up at the shelter. The staff at the shelter loved me for it.
As I sat nursing my coffee, my eyes locked onto that petite woman as she swore like a dockworker. I couldn't tell what she looked like because she was looking down at her phone, and her eyes were hidden from me by her hair. She wasn't having a good day, from the sound of the cursed frustration and her threatening her smartphone with bodily harm. Watching her swear and struggle brought a smile to my face, and I couldn't resist getting closer to her.
I moved from my usual spot at a corner table to stand close to her. I couldn't explain it; I was drawn to her; I know it was creepy, but her pull on me was unstoppable. Before I clocked what I was doing, I was standing next to her; I realized what a vision she was. Her wavy golden hair lay down her back past her shoulders. The sunlight hit her blond streaks, changing the color. I wanted to lean in and gently inhale, but thought I'd better not.
From where I stood behind her, she would fit perfectly against me if I just pulled her close. She must have been about five eight because she came right under my chin and I was a little over six feet tall with my boots on. Looking down, I saw she was wearing a small heel but seemed like she'd be a tiny thing in my arms.
I was getting ahead of myself; this woman was no one to me. All I knew at this moment was I wanted to buy her a cup of coffee, smell her hair, and talk to her for the rest of the day like an average person. Shit, who was I kidding: I wasn't an ordinary person. Following her around was nuts. I must be horny; it had been a long time since I'd been with a woman or even my left hand. All I could imagine was staying here the rest of the day, smiling at her, and laughing at her swearing like a sailor.
As the line moved, we got closer to the counter. She was still distracted with her phone, but she stopped to order her drink.
"I'll have a double espresso, please."
I cleared my throat. "Stacy, I'll get this espresso for her; she looks like she needs someone to buy her a coffee."
Stacy pretended not to be surprised at my request. "Sure, Phin, no problem." Stacy was shocked when I pulled out money. I used my savings sparingly, it was only meant for emergencies, but I kept a little cash on me just in case. She probably assumed I was broke because I helped out at the café from time to time and they gave me free food and drinks. Plus, I think she liked me, so she'd let me hang out during the day.
When I peeked over her shoulder at her phone, I saw the cracked screen. I could still see the icons on the phone through the fragments of cracked glass. My smartphone was an older version of her broken one. Anything worth more would have had me beaten up and robbed on the streets.
She was still staring at her phone. "Thanks for the coffee, you didn't have to do that. You are right. I am having the worst day. My phone just slipped out of my hand and cracked." She scrubbed her hand over her face; sheer frustration was written all over her. "Shit, this couldn't happen at a worse time. I am such a klutz." She swiped her finger across the screen on her phone and winced. "Ouch, I got a glass splinter in my fucking finger now."
She finally looked up at me, and I was stunned, I saw the most beautiful light blue eyes I'd ever seen. They were the color of the polar ice caps. You know the glaciers you see on the nature channel shows. I looked into them, and they took my breath away. I didn't want to look away or speak. Without hesitation, I took her hand and inspected her finger, feeling a slight tremble, but she didn't pull away. I was just thrilled to have a reason to touch her.
"You can't keep using it; you need to get it replaced. That glass will splinter as you've already found out, and it will only get worse. Do you have your information all backed up?" I couldn't let go of her warm hand, stroking it softly, trying to give her comfort but seeking my own. I kept wanting to ask her questions, afraid she might leave.
She gave me a weak smile, still not pulling her hand away. "Fortunately, I do have it backed up. The Apple store is just up the street. I'll take it back to them." She held up her other hand with crossed fingers and smiled at me. This time she had a twinkle in her ice-blue eyes. "Fingers crossed it won't be too difficult to replace."
She finally looked down at our hands, and I reluctantly let go just as Stacy came back with her espresso.
"I think you'll live if you don't try to use your phone."
She took her coffee, then turned back to me and smiled, looking at me like a real person, not an invisible. "Thanks for being so nice, and the coffee."
I returned her smile. "No problem, see you around." I was never so sorry to utter that sentence. I went back to my spot and drank my cold black coffee. She waved at me as she left, drinking her espresso, almost running into an incoming customer. Maybe she was a klutz, the sexiest klutz I'd ever seen. I was disappointed as she headed up the street, and then I saw her walking animatedly back the other direction. I laughed as I watched her, as she walked away muttering to herself. The thought kept a smile on my face for longer than I realized. Thinking about this woman, she was so damn cute with her swearing and klutzy behavior.
I hadn't wanted to make any connections with women after what happened with Lana. I had to wait until after my inheritance to find that particular person; there was too much at stake.
Considering the size of the city, I figured I'd never see her again, but I couldn't let that happen. I'd come back tomorrow and hope to see her. All I had to do now was to go back to the shelter to help and get some food and a bed for tonight. I did my best to put that woman out of my mind, but she gave me hope that my life could change for the better.