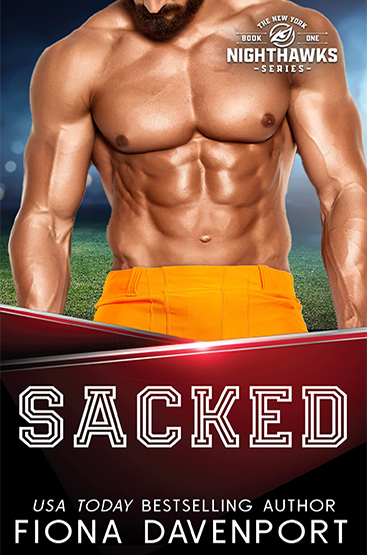 Sacked
by Fiona Davenport
Series:
The New York Nighthawks #1
May 30, 2022
Amazon

Prentice Wright was one of the best quarterbacks in the league. He was known for making all the right moves on the field. It was how he led the New York Nighthawks to victory so often.
Falling for his teammate's sister wasn't a smart play. Especially when Naomi Scott was more than a decade younger than him.
But Prentice was also known for being relentless in the pursuit of his goals…and he'd never wanted anything more than to make Naomi his.
EXCERPT
I was about to leave as well, but as I turned around, my eyes landed on a stunning creature. My breath caught in my throat, and my cock came alive. If I hadn't been so blown away by the woman I was staring at, I would have been shocked that my dick was showing any interest in a woman, for the first time in years.
She wasn't very tall—then again, a lot of people seemed short when you were looking down at them from six feet and five inches.
Her light brown hair was pulled back into a ponytail, showing off her gorgeous blue eyes, pert nose, and full, pink lips. My gaze slid lower, to her slender neck, generous tits, soft stomach, and wide, round hips. Fuck. She was made for sex. Made for having babies. Made for me.