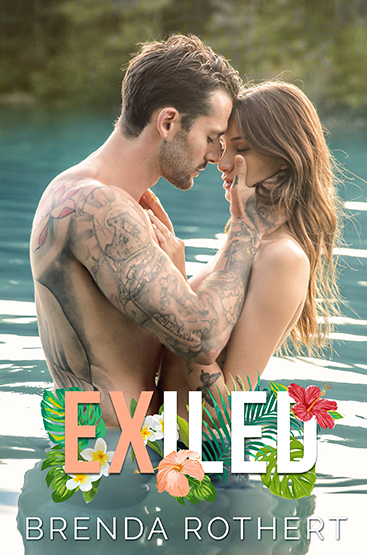 Exiled
by Brenda Rothert
May 24, 2022
Amazon

Pro hockey player Archer Holt is taking his charm and swagger from the ice to the...sand? One of sixteen players competing to be the last man standing on a new reality show, he's all in until he finds out the meaning behind the show's title—Exiled.
Archer
Before I was a pro hockey player, I was an Eagle Scout. I can tie knots, build shelters and fish like nobody's business, making me the perfect choice to represent my team on a reality show set on a primitive tropical island. I can endure scorching heat, tough competitions and torrential rainfall—no problem. But when I find out who my partner is, I'm not so sure I'll survive being stranded on an island with her.
Lauren
Archer Holt broke my heart eight years ago. Now he's rich and famous, and I'm a high school English teacher in our hometown. When I'm offered the chance to compete for half a million dollars by outlasting fifteen other teams on an island with my selfish jerk of an ex, I jump at it, because that money can change not just my life, but my family's. Besides, I'm long over Archer.
Or so I thought.
REVIEW
So, I really wanted to read this book after I read the blurb. Super original idea for a plot about a professional hockey player going on a Survivor competition type reality show, only to be blindsided that his partner for the competition is his ex-girlfriend.
I can be a big fan of second chance romances, and like I said, this sounded like a super fun and interesting read.
And it was. I really did enjoy Exiled! I want to make that clear. I am glad I decided to pick it up and give it a go. I was hooked and definitely stayed involved in the story while reading it.
It was absolutely worth the read. Archer and Lauren getting put in forced proximity to compete in a reality show seem to show them they never really got over one another. The way Archer took care of Lauren and worried about her was super endearing. I also liked how it showed the comparisons of how the other ex-couples were not getting along at all versus how Archer and Lauren were getting along and reconnecting.
However… Here's the but…
It just didn't completely deliver all the way, I am afraid. There were a lot of inconsistencies that were easily noticeable. The story also felt a little rushed and just really didn't have a good flow to it.
But overall, a really interesting concept and that turned into an enjoyable read.