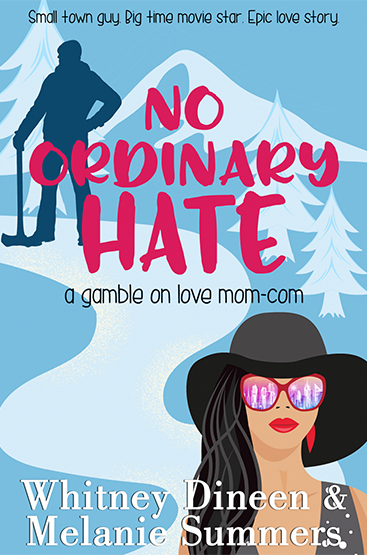 No Ordinary Hate
by Whitney Dineen, Melanie Summers
Series:
A Gamble on Love Mom Com #1
May 5, 2022
Amazon

Life in Hollywood is easy to hate...
According to Hollywood insiders, Harper and Brett Kennedy have the perfect family life—an image that has been carefully cultivated by an army of PR experts at Galaxy Studios. The truth is, their relationship has been on the rocks since Brett cheated when Harper was pregnant with their youngest child. Four years later, he's still cheating, but this time with the nanny.
When the tabloids find out, a media frenzy ensues, all but making Harper and her kids prisoners in their Pacific Palisades mansion. Needing time out of the spotlight to regroup, Harper rents a cabin in the last place the press or anyone else would ever think to look for her—Gamble, Alaska.
There, she finds peace, solitude, and Digger McKenzie. Will the gruff lodge owner, who goes out of his way to make Harper feel like she doesn't belong, realize he's about to miss out on his one chance at happiness? Will Harper's kids adjust to small-town life and heal from the chaos of their parents' separation? Will Harper learn how to shoot a bear?
Find out in the deliciously funny and dishy first installment of the Love is a Gamble Mom-Com series.