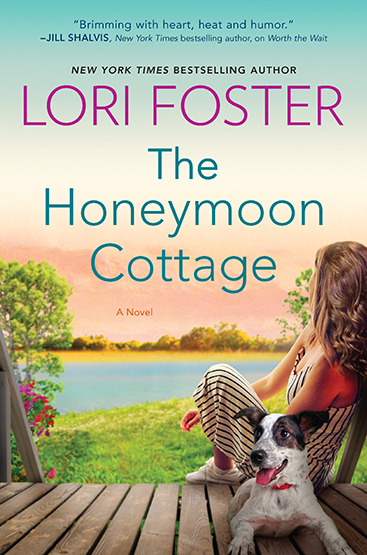 The Honeymoon Cottage
by Lori Foster
Series:
Cemetery, Indiana #1
May 24, 2022
Amazon
| 
B&N
| 
BAM

A wedding planner, who has resigned herself to spinsterhood, organizes other people's happy endings in this romantic new women's fiction from New York Times bestselling author Lori Foster.
A light, romantic family saga centered around Yardley Belanger's country wedding planning business and her eccentric family, and set in a quirky small town with the unusual name of Cemetery, Indiana. (Sure, people have tried, but Betty Cemetery, who is descended from the town founders, will let the name be changed…over her dead body.)
At 31, Yardley Belanger is really good at her job as a wedding planner—organizing other people's happy ever afters. Yardley doesn't care that she has zero love life...all the eligible guys in Cemetery are men she grew up with, and none of them interest her anyway. She's put her heart and soul into her business and has built a reputation specializing in country weddings—complete with a cottage by the lake for honeymooners—attracting happy couples and their families from all around.
Travis Long had to take on too much responsibility too soon. When their parents died, he took care of his younger sister, Sheena. For years, it was just them against the world. But now his baby sister is getting married, and Travis is struggling to accept this change. He thinks Todd isn't good enough for Sheena, and without meaning to, Travis is noticebly judgmental of his sister's intended.
Travis and Sheena are in town to plan her country wedding. Travis wanted something classier for his sister, but then he meets Yardley. He notices she puts her heart and soul into everything, and that she really listens to what the bride wants. Yardley has this no-nonsense way of interpreting what his sister says and doesn't say.
How the hell is he falling in love during wedding prep for his little sister? Easy. He never expected to meet someone like Yardley Belanger.
I received this book for free from in exchange for an honest review. This does not affect my opinion of the book or the content of my review.
REVIEW
If you are looking for a super sweet book to get cozy with, then The Honeymoon Cottage is absolutely the book for you! Such a fun lovely read to just sit down and enjoy.
Lori Foster is amazing in creating these wonderful communities of people in her books and series. The Honeymoon Cottage is about Yardley and Travis, but we get so many more wonderful characters as we are introduced to this little town called Cemetery.
Yardley is a local wedding planner in her very beloved town, Cemetery and Travis has hired her to plan his little sister's wedding. But that is just the cherry on the sundae of what this book is about. We get to see so many characters, not just Yardley and Travis, do a lot of soul searching and growth. Such beautiful relationships are shown between everyone.
It was such a wonderful light read that came at the exact right time. If you need a story that will lift your spirits and maybe give you a smile do not hesitate in picking up The Honeymoon Cottage.