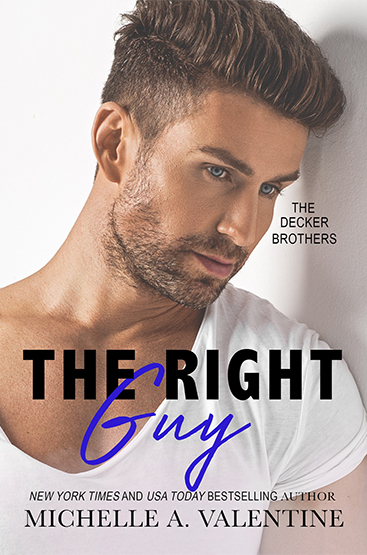 The Right Guy
by Michelle A. Valentine
Series:
The Decker Brothers #2
February 28, 2023
Amazon
From NYT and USA Today bestselling author Michelle A. Valentine comes a sizzling brother's best friend, stand-alone romance about small-town cop and a woman who is running from her past…
When I set out to find a more exciting life, I fell for a bad boy. Only, I didn't realize how ruthless he actually was until it was too late.
And now that I've found the courage to leave, he vows he'll never let me go.
When my best friend from high school offers me a job at his bar in my hometown, I jump on it, needing a fresh start. What I didn't anticipate is my friend's younger brother, the smooth talking police officer, Calvin Decker.
Cal says I'm safe with him and can let down my guard. God, I want to believe him, but my past won't let me walk away so easily and moving on could be the fight of my life.
*Book Two in The Decker Cove Series. Stand-alone. Full length novel.*
Warning: This book contains dubious situations and triggers that some readers may find offensive. Please check interior of the book for the disclaimer if you have specific triggers.