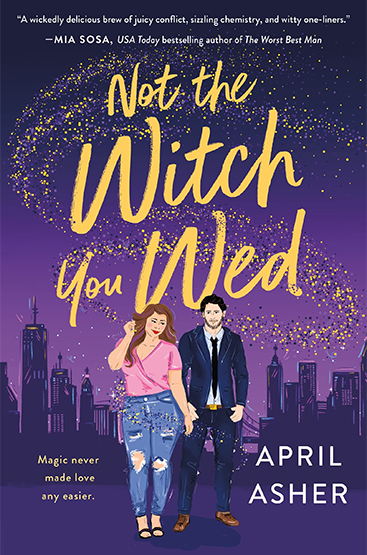 Not the Witch You Wed
by April Asher
Series:
Supernatural Singles #1
February 8, 2022
Amazon
| 
iTunes
| 
B&N
| 
BAM

A fake relationship between a magic-less witch and a wolf shifter turns to more in the start of a bewitching new paranormal rom-com series.
Magic-less witch Violet Maxwell wants nothing to do with alpha wolf shifter Lincoln Thorne—the man who broke her fragile, teenage heart. But when the two of them are forced by arcane Supernatural Laws to find mates, Violet and Lincoln agree to fake-date their way to a fake-mating in order to conjure themselves some time.
The joke's on them. When old feelings make a reappearance—along with Violet's magic—they both realize there's nothing fake about their feelings. But there are old secrets and looming threats that could snatch away their happily ever after, again. One thing's for sure: magic doesn't make dating and love any easier.
In Not the Witch You Wed, April Asher brings all the hilarity and sweet, sexy moments you love in a romantic-comedy—plus a fun dose of magic—to this spell-binding new series about being sexy, single, and supernatural in New York City.
REVIEW
What a fun read! I love a little paranormal and I also love a good rom-com! This is absolutely what you need if you are looking for a great laugh with some supernatural elements to it.
This is also a really cute second chance romance. Lincoln broke Violet's heart years ago, and now they are back in each other's lives and their chemistry was so delicious I couldn't get enough.
They agree to a fake relationship to appease some old supernatural laws that they can not seem to get around. Add in a hilarious family with a wise and witty grandma at the helm and this is the remedy for a book you can not put down.
Another lovely storyline in the book is the characters finding themselves, specifically Violet. Violet never believed herself to be a powerful witch, in fact she always believed she didn't have any magic and was known as the magicless sister.
Violet coming into her power and Lincoln finding his voice are really heart-warming and completely made the book a must-read.
I can not wait to get my hands on the next book!