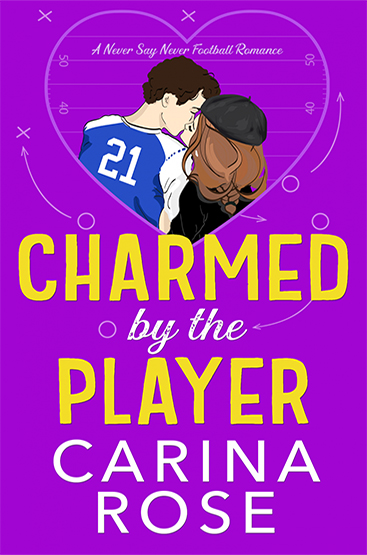 Charmed by the Player
by Carina Rose
August 30, 2022
Amazon
| 
Kobo
| 
iTunes
| 
B&N
Things I hadn't expected to happen on my birthday . . .
1. To go from brunette to orange when I was aiming for blonde.
2. To run into my ex and his new girlfriend, who happened to be sweeter than my favorite candy bar.
3. To literally collide with a wall of muscle belonging to Lucas Donovan, the extremely sexy cornerback on the Virginia Thunder.
Did I say collide? No, I didn't just collide, I lingered. How could I not? The man smelled like a dream, felt like heaven, and looked like a Greek god. If I didn't know better, I would have thought my best friend wished him for me when she helped me blow out my candles. She was all about me finding Mr. Right, except I'd never been lucky in love . . . nor was I looking.
And despite all of his wonderful attributes, Lucas wasn't my type. So when he asked for my number, I declined. Why? Because I knew he had cleat chasers and numerous athletic supporters at his beck and call. Totally not my scene. Instead, I decided to chalk our encounter up to a perfect ending to a perfectly messed-up day.
Thinking I'd never see him again, I was shocked when he popped into my store to ask me out on a date. To say I was thrown a bit off - kilter would be an understatement. Maybe that was why I eventually accepted. Or it could be because I knew my best friend would disown me if I kept turning him down. Not to mention, the man had enough charm to fill my boutique and then some.
Finally happy, I figured my luck had changed. Maybe Lucas Donovan was my Mr. Right. But then my past slammed into my present. And all I wondered was what that meant for our future.