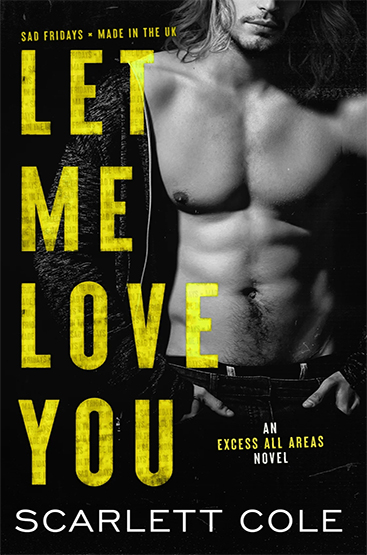 Let Me Love You
by Scarlett Cole
Series:
Excess All Areas #5
August 30, 2022
Amazon
| 
Kobo
| 
iTunes
| 
B&N

Chaya
The wedding plans are underway, and the Save the Date cards are sent. If only the man she was marrying was the man she loved with all her heart.
Being a contemporary woman in a traditional faith requires compromise. Being in love with her best friend, Sad Fridays' guitarist Ben King, the man who saved her years ago, is agony. It's official. He has ruined her for all other men.
Ben
He's never fallen off the stage while drunk, until the Save The Date card lands on his door mat.
Despite loving Chaya forever, her father made it crystal clear. Ben will never be the one for his daughter.
Now she's marrying another man, and Ben is beginning to wonder just when Chaya will realise it's him she should be saying I do to.
When tragedy reunites them, Chaya is caught between her fiancé and her love. And it's up to Ben to fight for Chaya or let her go forever.