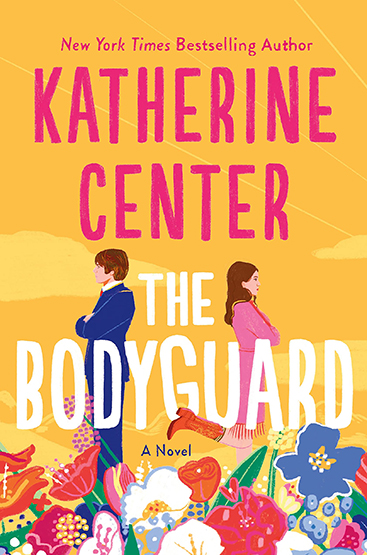 The Bodyguard
by Katherine Center
July 19, 2022
Amazon
| 
iTunes
| 
B&N
| 
Audible
| 
BAM

She's got his back.
Hannah Brooks looks more like a kindgerten teacher than somebody who could kill you with a wine bottle opener. Or a ballpoint pen. Or a dinner napkin. But the truth is, she's an Executive Protection Agent (aka "bodyguard"), and she just got hired to protect superstar actor Jack Stapleton from his middle-aged, corgi-breeding stalker.
He's got her heart.
Jack Stapleton's a household name—captured by paparazzi on beaches the world over, famous for, among other things, rising out of the waves in all manner of clingy board shorts and glistening like a Roman deity. But a few years back, in the wake of a family tragedy, he dropped from the public eye and went off the grid.
They've got a secret.
When Jack's mom gets sick, he comes home to the family's Texas ranch to help out. Only one catch: He doesn't want his family to know about his stalker. Or the bodyguard thing. And so Hannah—against her will and her better judgment—finds herself pretending to be Jack's girlfriend as a cover. Even though her ex, like a jerk, says no one will believe it.
What could possibly go wrong???
Hannah hardly believes it, herself. But the more time she spends with Jack, the more real it all starts to seem. And there lies the heartbreak. Because it's easy for Hannah to protect Jack. But protecting her own, long-neglected heart? That's the hardest thing she's ever done.
REVIEW
Oh my goodness. So many things I can relate to in The Bodyguard by Katherine Center, and everything is in our heroine, Hannah. She could be me. And I mean that in so many ways. Houston is home (where the book takes place) and I had a very similar relationship with my mother growing up.
The book starts off while Hannah is going through the worst time in her life. She has lost her mom and then had her boyfriend dump her on the day of the funeral. Again, this book was a real emotional read for me as I identified with a lot of Hannah's situations and even how she viewed herself.
She is assigned to be the Executive Protection Agent (aka "bodyguard") for the famous movie star, Jack Stapleton, when he comes home to Texas to visit his family. Only problem is Jack doesn't want his family to know that he has a stalker and needs a bodyguard. Solution? Hannah has to pretend to be Jack's girlfriend.
Can we guess where this goes?
The Bodyguard was a super sweet, super cute book told completely from Hannah's point-of-view. I felt like this was also an emotional read, but again, this one hit a little close to home so that might be why.
You should definitely go pick it up and judge for yourself. 😉