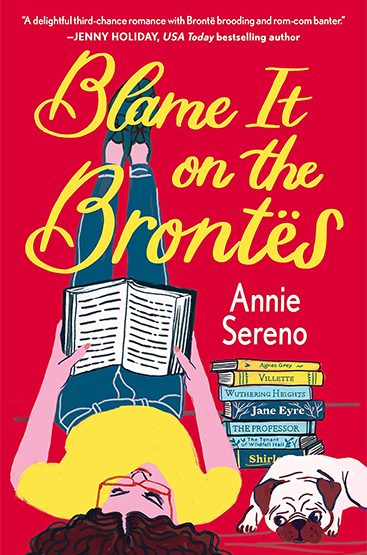 Blame It on the Brontes
by Annie Sereno
May 3, 2022
Amazon
| 
iTunes
| 
B&N

English professor Athena Murphy is an authority on the novels of the Brontë sisters. But as they say in academia, publish or perish. To save her job, Athena decides to write a biography of C.L. Garland, the author heating up bestseller lists with spicy retellings of classic literature. Tracking down the reclusive writer and uncovering her secret identity, though, means Athena must return to her small midwestern hometown where Garland—and her ex-boyfriend, Thorne Kent—live.
Seeing Thorne again reminds Athena that real life never lives up to fiction. He was the Heathcliff to her Catherine, the Mr. Rochester to her Jane. Not only did their college breakup shatter that illusion, they broke each other's hearts a second time. Now she has to see him nearly every... single… day.
The only solution is to find C.L. Garland as quickly as possible, write the book, and get the heck out of town. As her deadline looms and the list of potential C.L. Garlands dwindles, Athena and Thorne bicker and banter their way back to friendship. Could it really be true that the third time's a charm?
I received this book for free from in exchange for an honest review. This does not affect my opinion of the book or the content of my review.
REVIEW

Blame It on the Brontes was a super fun and easy read!
I have mixed emotions about second chance romances, but I truly loved getting captured in Athena and Thorne's story. I need some backstory for the second chance romances, and I feel like we got a good feel for the relationship they previously had.
I also love a good mystery. Athena comes back home because she has promised a book on who the best selling romance author, C.L. Garland, really is.
What she doesn't expect when she returns home? Her ex-boyfriend, Thonre, now owning the local diner she was promised a job at. So now she works for her ex while trying to track down the real identity of a recluse author who write erotic retellings of the classic literature that originally brought her and Thorne together when they were in college.
Again, this is a super cute and fun read. I enjoyed Althena's quirkiness as she navigated all the moving parts in her life, and Thorn's love for Althena was inspiring and heartwarming. Loved how they had to learn to trust one another again.