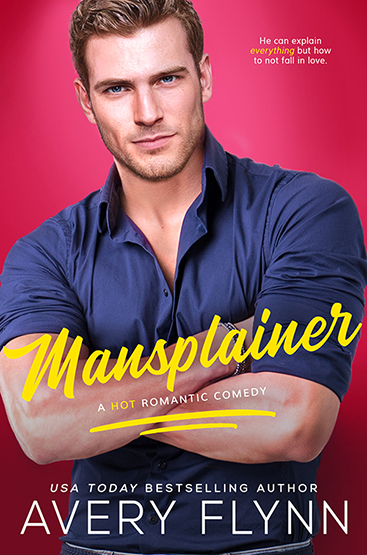 Mansplainer
by Avery Flynn
Series:
Last Man Standing #3
June 27, 2022
Amazon
| 
Kobo
| 
iTunes
| 
B&N
As the only Beckett cousin who is still unattached, I'm a shoo-in to win the bet with my cousins to be the last man blissfully not in love by Christmas. Of course, I know they're still going to make me follow the rules of our bet and go on six dates with the same woman—but I've figured out a way out of that too. I'm getting married. Is it love? Not even close. Chelle Finch needs a temporary husband and I need to win this bet. We agree to put a ring on it knowing that in six months this marriage of convenience will end in divorce. Except, somehow dating my wife has me realizing that I don't ever want to take this ring off if it means losing her.
What does the guy who can talk his way out of anything have to do to sweet talk his temporary wife into forever?
I received this book for free from in exchange for an honest review. This does not affect my opinion of the book or the content of my review.
REVIEW

I am officially an Avery Flynn fanatic for life! After devouring her Last Man Standing series, I seriously do not think there is a book of her's out there I will not love.
Now, I read Mama's Boy and Neanderthal a while back, so when I got my little grubby hands on Mansplainer I had to do a quick re-listen to make sure I was fresh going in. Which actually leads me to making sure you understand that you DO need to read the series in order. Each book is about a different hero and heroine, but there is an underline story that needs to be followed and you will TOTALLY be missing out if you don't read the first two books prior to reading Manspaliner.
Now, I was very curious about my boy Nash because if you've read Mama's Boy (and Neanderthal) then you know Nash is the one who set up the whole bet that is a premise to the storyline, and that's to see who the last man standing would be between himself and his cousins. The winner gets to open their late Grandmother's last Christmas gift.
What were his reasons behind the bet? Does he have something up his sleeve? What in the world did Grandma Betty leave as her last gift??
I couldn't stand myself, I need all the answers! But before we could get the answers, Nash had to do his part of the bet. Six dates with the first person to respond to his profile on a dating app.
Enter Chelle. Now, I liked Chelle right off the start. She's unique, quirky, and just sounds like a super fun person I would want to hang with. But she's also stubbornly independent.
What I really loved about this story was how they almost had to do role reversal. Nash likes to take care of everything and everyone so he is used to telling people what to do and how to do it… for their own good of course. Chelle has felt like she has been controlled her whole life and can not handle someone telling her what to do or how to do it.
Super heartwarming to watch Nash learn to do things someone else's way and for Chelle to learn that it's ok for someone to help you.