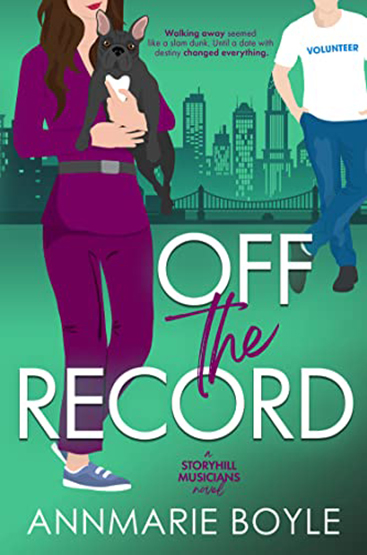 Off The Record
by Annmarie Boyle
Series:
The Storyhill Musicians #3
September 6, 2022
Amazon

Ever since the day her life flipped upside down, Bridget Hayes obeys a carefully crafted plan. And it works. Or it did. Until the night of her brother's wedding, when she throws out all her rules—in spectacular fashion and finds herself in bed with one of her brother's bandmates. What had she been thinking? She caved to the one thing she can't control—her longtime crush on a tall, charismatic, ginger of a man . . . who also happens to BE ONE OF HER BROTHER'S BEST FRIENDS.
Blake Kelly knows two things for sure: happily-ever-after is a myth and Bridget Hayes is risk personified. Doesn't matter that he's been attracted to her since her brother uttered the words, "Meet my sister." Getting close to her could blow up the band. And the band is his family. He can't risk it . . . no matter how much he wants a repeat performance.
Armed with a pact—tell no one—they return to their regularly scheduled lives. Because in a city of nine million people, what are the chances they'll bump into each other anytime soon?
Nada. Zip. Zilch.
That is, until a rescue pup named Destiny turns out to be less dog and more cupid in a fur coat.
OFF THE RECORD is the third book in the award-winning Storyhill Musicians series.
Mix two secret crushes, a splash of sports romance, and the complications of dating your brother's best friend and you have this witty steamy contemporary romance about two people figuring out if the risk is worth the reward.
EXCERPT
"Blake, I need you to pick up Bridget at the airport."
A shiver ran down Blake's spine at the mention of Andrew's sister. And not the cold kind. The so-warm-if-you're-not-careful-you-might-get-burned kind. "You want me to pick up Bridget?" Andrew had spent years discouraging Blake's interaction with his sister—loudly.
"Not really." Andrew grimaced. "But everyone else already has an assigned task, and Grace promised to make our wedding night very boring if I let my little sister take an Uber."
"Little" was an interesting way to describe Bridget Hayes. At thirty-four years old, six feet tall, and one of the youngest basketball executives in the league, little would be the last word Blake would choose. Stunning or accomplished seemed better places to start.
Andrew scrubbed his fingers through his hair. "Just remember—"
Blake blew out a breath. "Yeah, yeah, she's off limits. I heard you the first hundred times."
"I was going to say it takes her some extra time to get from the gate to baggage claim. She's still, um, fragile."
Little and now "fragile?" Had Andrew paid any attention to his sister over the past decade? Ten years was a long time to still be treating her like she might break. But maybe he shouldn't judge, he didn't have any siblings, didn't have any first-hand experience with family dynamics.
"But, Blake," Andrew said, pushing a finger into Blake chest. "What you said, too."
Nick picked up the tray of favors and chuckled. "Don't worry Andrew, gingers are very few people's cup of tea."
"I think you got some bad data, my friend." Blake ran a hand down his chest and winked. "Red heads are the world's unicorns and who couldn't use a little more magic in their life?"