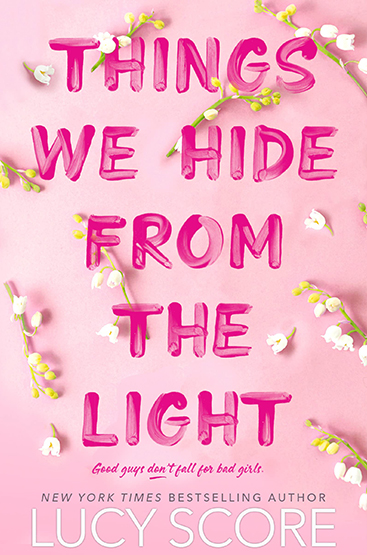 Things We Hide From The Light
by Lucy Score
Series:
Knockemout #2
February 21, 2023
Amazon

Police Chief Nash Morgan is known for two things: Being a good guy and the way his uniform accentuates his butt. Two bullets put a dent in that Southern charm but—thankfully—spared his spectacular rear end.
He's got his hands full with the man who shot him still on the loose, healing wounds, and citizens that think of the law as more of a "guideline." Throw in the gloomy mood that clings to him, and the last thing he needs is a smart-mouthed, gorgeous new neighbor making him feel things he doesn't have the energy to feel.
Lina has her reasons for being in town. She's on a mission and the fewer people that find out about it, the better. She does her best work alone and as soon as she finds what she's after, she's hitting the road for the next solo adventure.
Too bad the town of Knockemout has other ideas. Soon Lina finds herself sucked into small-town life.
Dog-sitting…
Saying yes to a bridesmaid dress…
Listening to the sexy AF chief of police service himself in the shower…
But when Nash finds out why she's there, flirty friends become furious enemies. The sparks flying don't know the difference between lust and hate. When danger forces them together, it's only a matter of time before they both get burned.
REVIEW

I couldn't get enough of Lucy Score's 'Things We Hide From The Light'! Nash and Lina are an amazing couple whose chemistry and banter keep the pages turning. The plots and tension are fascinating and keep you glued to the story, and the characters SOOO believable. I loved the way Nash and Lina evoke some of the best and worst aspects of each other.
I would highly recommend reading 'Things We Never Got Over' before reading 'Things We Hide From The Light', as it provides great character development and context to the events of the main story. Knockemount, the small mountain town where the majority of the story takes place, is a great setting for the tale and really comes alive as the story progresses. All in all, this book is a true delight!